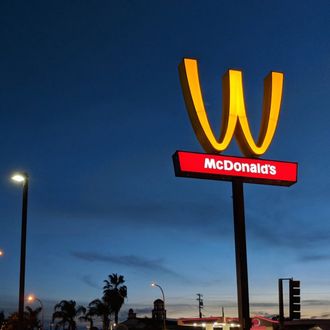 Feminist McDonald's.
Photo: McDonald's
Feminists around the world, rejoice: For one day and one day only, McDonald's is flipping its iconic M arches to Ws … for us.
That's right, following the shattered glass ceilings of paper towels (Brawny Woman), fried chicken mascots (Reba McEntire as Colonel Sanders), and whiskey (Johnnie Walker's new Jane Walker logo), McDonald's has finally become feminist, too. Well, at least for this week's International Women's Day, according to CNN Money.
The arches will be physically flipped at one California location (wow!) on Thursday, and digitally flipped on McDonald's digital channels. Employees of the fast-food chain will also wear "special hats and shirts" to mark International Women's Day, as well. McDonald's chief diversity officer Wendy Lewis told CNN the logo flip is being done "in honor of the extraordinary accomplishments of women everywhere."
So long, wage gap and reproductive rights; hello French Girl Fries and Egg-Freezing McMuffin, which we only assume the temporarily feminist chain will be serving on women's big day.