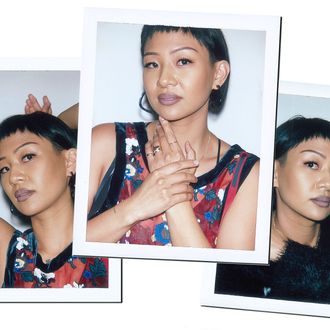 Left: Cruz wears Sacai; Center: Cruz wears Sacai; Right, Cruz wears her own clothing.
Photo: Lucas Michael. Photo Editor: Biel Parklee.
A cursory glance at Morgan Cruz's styling portfolio demonstrates at least one thing: She has the range. Scroll through her site and you'll see everything from bubbly photos of Skai Jackson to breezy poplin shirts to sleek chrome accessories — lots of chrome, actually. Her work has been featured in Vanity Fair, Barneys New York, and even Rit Dye (the brand of choice for dying all your clothes black, if you're going through an emo phase.) "I'm super grateful I get to work with different people all the time and be super creative," she said. Read on for her answers to our lightning-round questions.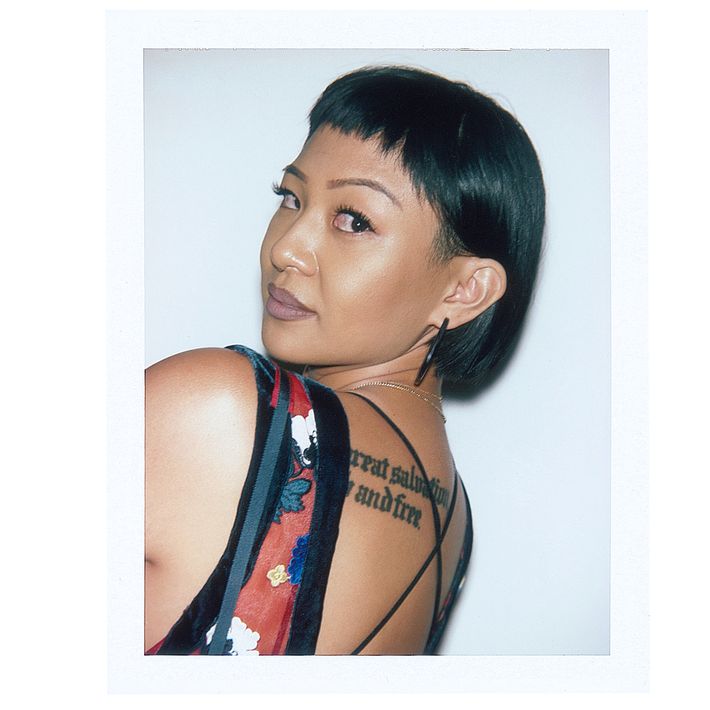 If you could be a magazine, what magazine would you be? 
To be honest, I would probably be a skate mag or street magazine, like Monster Children if it was more diverse or London's Daily Street if it were a little more academic.
If you could speak to animals, which animals would you want to talk to? 
Definitely fish and birds because they're just living in environments unbeknownst to me. I'm also a bit of a water baby. So to be able to feel safe and understand what's going on in the ocean would be great. And we can't fly, so I want to talk to birds about that.
Sneakers or slippers? 
Sneaks.
What's something your social-media followers don't know about you? 
Oh man, where does the list start? I am an open book in person but I'm horrible at self-promotion and social media is a bit of an anomaly to me. We have a very interesting relationship. So there's a bit people don't know about me. It's so not natural for me.
What was the last website you looked at? 
IMDb or Amazon, I'm obsessed with both.
If you could be outfitted by one designer for the rest of your life, who would it be? 
I am a Margiela girl, but if I'm the elevated version of myself, then Phoebe Philo.
What time is your alarm set for in the morning? 
Depends on call time.
What do you eat for breakfast? 
Depends on if I'm feeling healthy or not. It can range from fruits to chilaquiles. If I'm hung-over or something, man, chilaquiles hit the spot.
If you could only eat three things for the rest of your life, what would they be? 
El Pastor nachos from El Super Burrito in the Bay Area. The rib eye from Karasu in Fort Greene and the bibingka from Maharlika in the East Village.
If you were a color, what would it be? 
Teal. It's very soothing.
If you could be trapped in an elevator with one person, who would it be? 
My paternal grandmother who is no longer with us. She was the MacGyver of her time and probably one of the wiser people I've ever met.
If you could tell Donald Trump one thing and make sure he would listen, what would it be? 
Love and respect are just as powerful as money.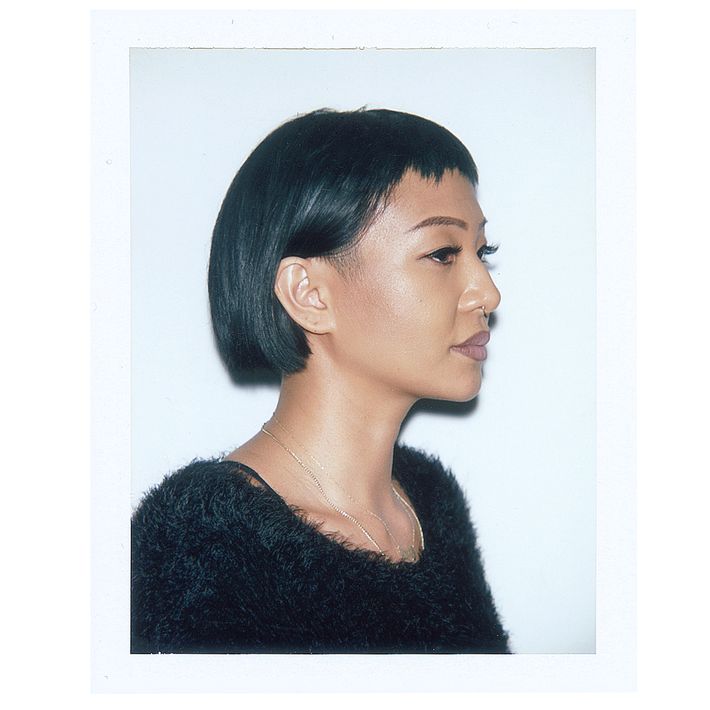 Cruz wears a Sacai floral dress, $2,620 at Bergdorf Goodman.