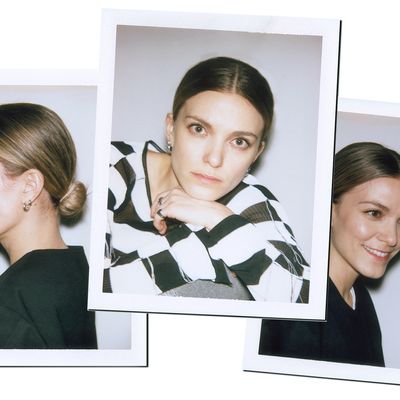 Left, Frederick wears her own clothing; Center, Frederick wears a Khaite top; Right, Frederick wears her own clothing.
Photo: Lucas Michael. Photo Editor: Biel Parklee.
Jessi Frederick lives by the dictum "less is more," as evidenced by her Instagram: a carefully controlled landscape of shades of gray. Frederick gained a following years ago with her blog, Stylish Gambino, but has since switched to full-time styling. (She also does creative direction and photography on the side.) As a stylist, she's brought her brand of minimalism to big names like Gap Inc. and Warby Parker, as well as new labels with cult followings like Irwin Garden. Read on for her answers to our lightning-round questions.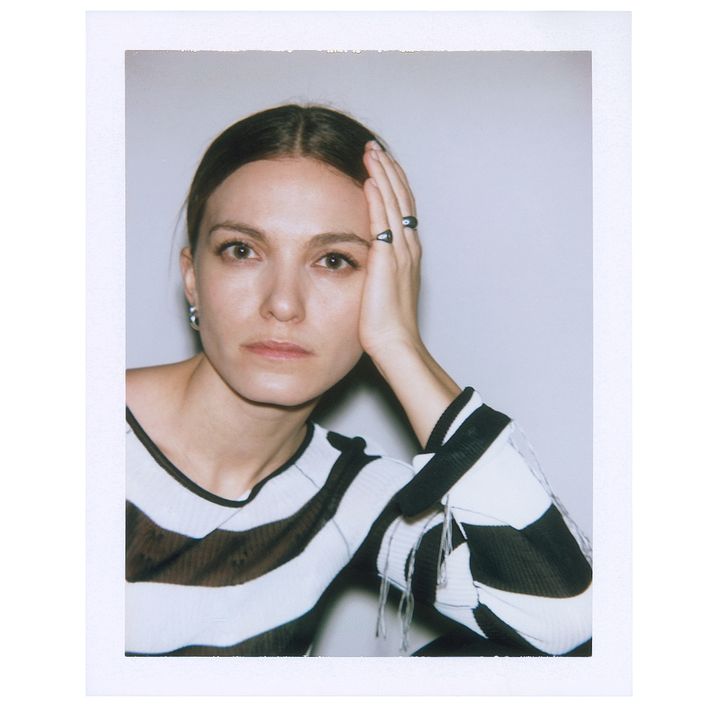 If you could be a magazine, what magazine would you be? 
Some undiscovered indie mag that comes out once a year.
If you could speak to animals, which animals would you want to talk to? 
Dogs, because I have one. I have a Maltipoo. He's black with white eyebrows. He's so sweet.
Sneakers or slippers? 
Sneakers.
What's something your social-media followers don't know about you? 
That my dog and I have the same birthday.
What was the last website you looked at? 
Google — does that count? I think I was looking up how to use essential oils for things other than your diffuser.
If you could be outfitted by one designer for the rest of your life, whom would it be? 
I would choose Phoebe Philo. Just her.
What time is your alarm set for in the morning? 
7:30.
What do you eat for breakfast? 
It depends. I usually tell the guy at my local deli to surprise me. We're on a first-name basis. I say "surprise me" and he asks me, "spicy or not?" So, maybe an egg and cheese with avocado or maybe with jalepeño.
If you could only eat three things for the rest of your life, what would they be? 
French fries, tacos, and pineapple popsicles.
If you were a color, what would it be? 
Right now, I'm vibing with mustard yellow.
If you could be trapped in an elevator with one person, who would it be? 
A doctor for the anxiety attack I would probably be having.
If you could tell Donald Trump one thing and make sure he would listen, what would it be? 
That's the hardest question, because how could you narrow it down to one thing? I just want to know: Are you actually being serious? Do you hear the words that are coming out of your mouth? Other than that, the topics are endless.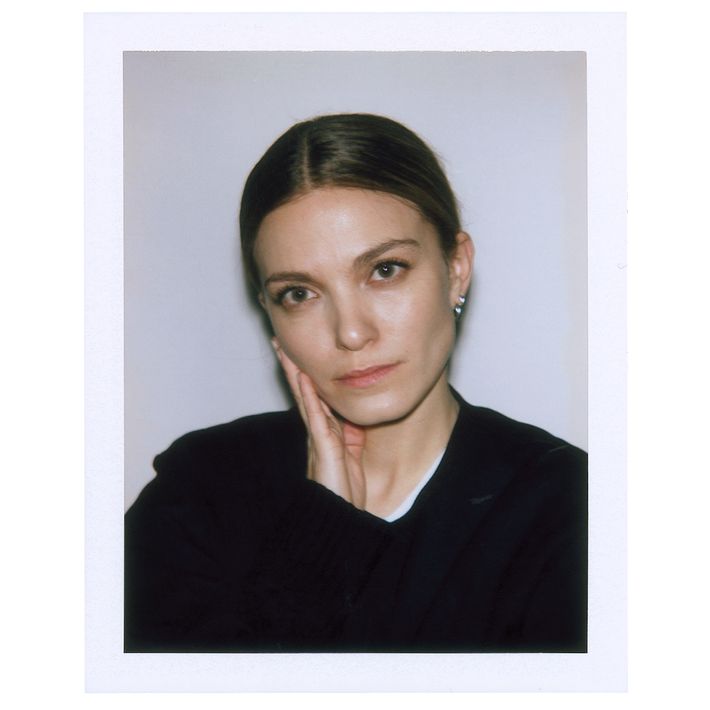 Frederick wears a Khaite Carmen sweater in black and ivory, $700 from Khaite.