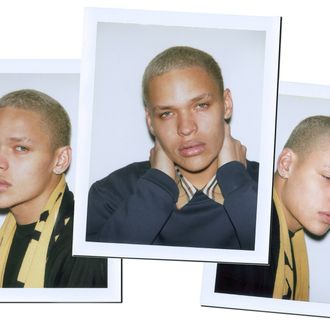 Left, Drummond wears his own clothes; Center, Drummond wears Burberry sweatshirt and shirt; Right, Drummond wears his own clothes.
Photo: Lucas Michael. Photo Editor: Biel Parklee.
Derek Drummond, also known as his rapper persona "Poster Boy," is the very model of a modern hypebeast. His Instagram is rife with sneaker drops, inventive layers, and hoodies with the ties in a neat bow (is that a style now? Should we all be doing that?). He started out working in carpentry in New Jersey until he saved up enough to move to New York. Now, he's signed with Wilhelmina Models and posting music on his Soundcloud, xXxplicitSounds. Read on for his answers to our lightning-round questions.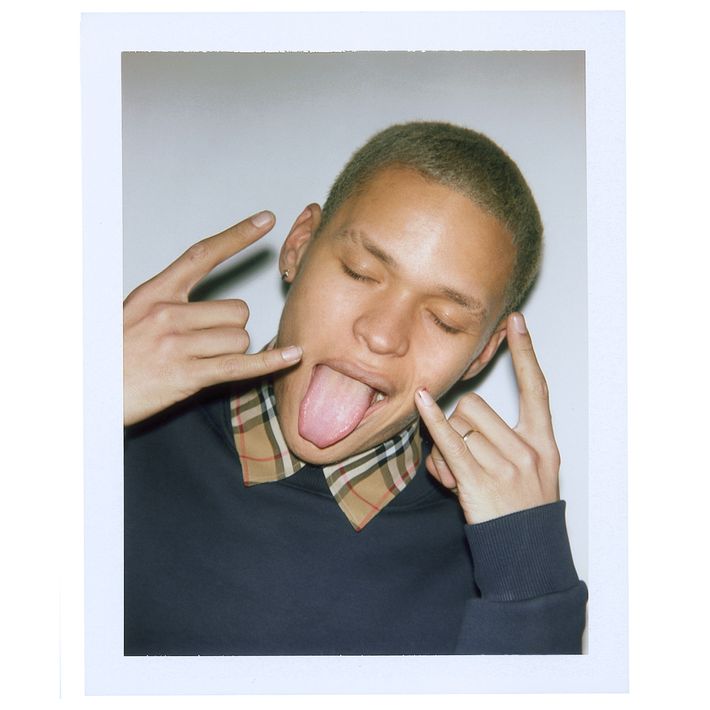 If you could be a magazine, what magazine would you be? 
Playboy magazine.
If you could speak to animals, which animals would you want to talk to? 
Dogs. I have four dogs. I'm always wondering what they're thinking because they can understand us.
Sneakers or slippers? 
Sneakers.
What's something your social-media followers don't know about you? 
Some of them don't even know I make music. They just think I'm a model.
What was the last website you looked at? 
My email.
If you could be outfitted by one designer for the rest of your life, whom would it be? 
Swagged out by one designer for the rest of my life? Hm. Yohji Yamamoto. I used to have some fire pants from him, but I lost them.
What time is your alarm set for in the morning? 
2 p.m.
What do you eat for breakfast? 
I have a matcha smoothie with mango, and it has some protein in it. It's this dope place on Rivington and Ludlow called Zenchai. I wake up late, so I have the smoothie then straight to a burger.
If you could only eat three things for the rest of your life, what would they be? 
A burger, blue raspberry sour straws, and I would love to eat hummus and pretzels for the rest of my life. That'd be chill.
If you were a color, what would it be? 
Forest green. Like the color you think of when you think of green.
If you could be trapped in an elevator with one person, who would it be? 
It would have to be someone interesting. Neil DeGrasse Tyson, he'd start talking about some trippy shit and it would be great.
If you could tell Donald Trump one thing and make sure he would listen, what would it be? 
Listen more.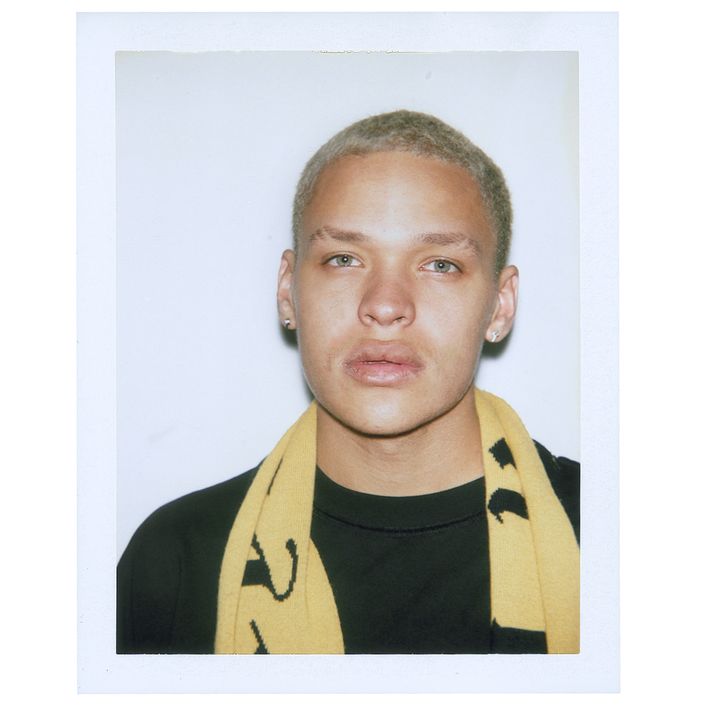 Drummond wears Burberry check shirt, $325, and reissued jersey sweatshirt, $650, available at Burberry.