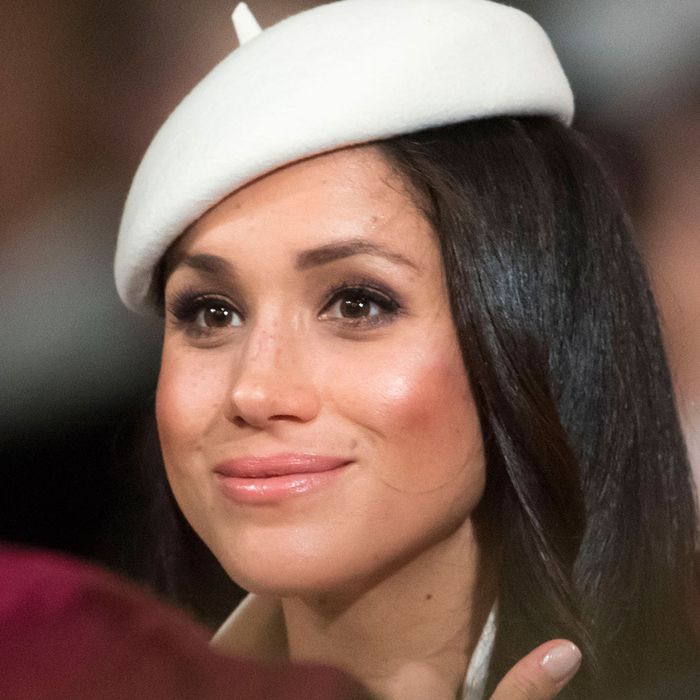 Meghan Markle, a person with great skin.
Photo: Paul Grover-Pool/Getty Images
"Everybody's usually tight when I first go in," Danna Omari explains as she leans over me."Open up." And then she sticks a latex-wrapped finger in my mouth.
I'm getting a buccal massage, a facial technique that promises to make skin appear lifted and plumper. Omari, an esthetician and the owner of the NOY Skincare Spa in midtown Manhattan, is performing the technique on me. Two sets of her fingers are massaging my skin: one on top of my face, and the other inside my mouth. Omari tells me that requests for this facial have skyrocketed since it was revealed that Meghan Markle gets the treatment with facialist Nichola Joss in London.
Omari describes the buccal massage as gym class for your face. Facial massage works because the rapid movements promote blood circulation and stimulate muscle memory, making your skin look perpetually refreshed. Buccal takes this a step further by applying motion from both the outside and the inside — i.e. from within your mouth — doubly triggering skin to appear more youthful. It is particularly helpful at targeting skin issues near your mouth, like nasolabial folds (laugh lines) and jowls.
The buccal massage is the penultimate step in this hour-long "Sculptural Deep Tissue" facial. Omari began the session by gliding an apparatus along my face that looks a lot like the tool parents use to suck boogers out of their baby's nose. This is the "cupping" phase, where the light suction from the tool promotes lymphatic drainage; in other words, it loosens the accumulation of fluid in your body that can make you look puffy. Unlike Gisele Bündchen's butt-cupping treatment, this one won't leave your skin pockmarked with racquetball-sized red circles.
After the "cups" are gone, Omari applies and removes an alpha hydroxy acid peel, and then she massages my face with shea butter ("I don't like massage oil," she tells me). Like the cupping, the massage is relaxing. After 20 minutes of quick upwards face strokes, I'm ready for buccal.
Not many people perform buccal massage (even at NOY, only Omari administers the treatment). To learn, Omari says she "stalked" world renowned facialist Yakov Gershkovich on social media and begged him to teach her everything he knew. Gershkovich relented, and even though Gershkovich's unfamiliarity with English presented a language barrier, they found common ground when they realized they both spoke Hebrew.
These days I'm finding facials increasingly unnecessary. What's the point, I often ask myself, when I emerge from an esthetician's table looking virtually the same as I arrived, but oilier. The tools in Omari's "Sculptural Deep Tissue" facial are far from hi-tech, but I can't help but to notice that I look noticeably better, like I drink eight cups of water a day, instead of one lowly can of Red Bull. My face looks smoother, and I have to squint to locate the hereditary laugh lines around my mouth. Omari recommends that customers receive the facial once a month for maximum results, but after just one session I am sold. Well, sort of. At $250 a treatment, buccal massage feels more like a semi-annual indulgence.