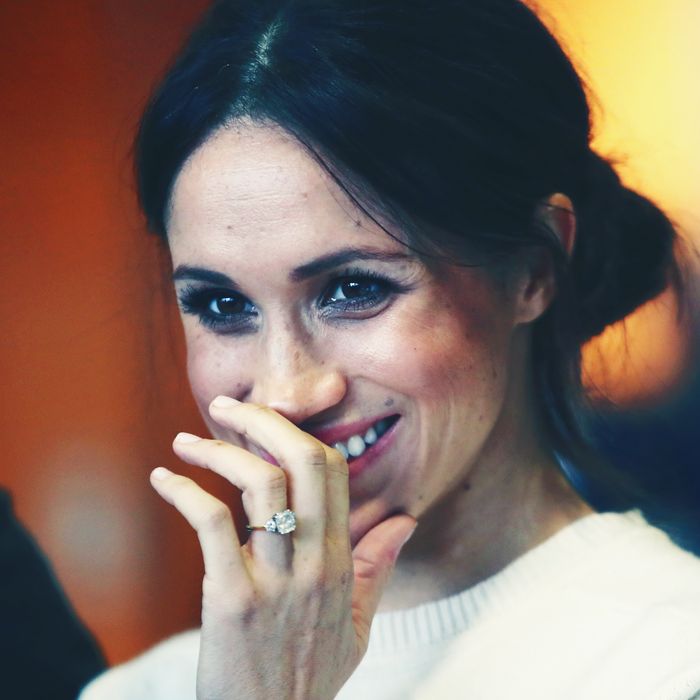 Meghan Markle.
Photo: Chris Jackson/WireImage
Although it was frankly rude of him to make us all wait for so long, Joshua Silverstein, the man Meghan Markle identified as her first kiss, finally broke his silence about the soon-to-be royal on Wednesday in an exclusive interview with (what else) the Daily Mail.
Markle dished about her first kiss in a 2013 interview with Larry King, long before she even met Prince Harry — you know, back when she starred on Suits, ran a lifestyle blog, and lived in the majestic oasis of Toronto, Canada. King asked Markle and co-star Patrick J. Adams if they remembered their first kisses, and she told him that hers was with Joshua Silverstein in her hometown of Los Angeles.
"I was 13. It was at like a summer camp, and I kissed him," Markle says in the video below (around the 22:34 mark). She also said she had no idea what Silverstein was up to now.
As it does, the Daily Mail tracked down Silverstein, a comedian, actor, and rapper who stars on the celebrity rap battle TV show "Drop the Mic." Silverstein, 36, is now a married father-of-two, and rightfully only had nice things to say about his time with Markle:
"We were together every day, we spoke on the phone a lot, we held hands and shared kisses. Meghan and I are the same age so, I know I was about 13 or 14. I obviously don't remember 'the kiss' — but I do know that I was the first guy she kissed. She was a nice, kind, sweet girl."
Silverstein explained that he and Markle attended the same theater summer camp at their local Agape Spiritual Church in 1993, which is where their relationship blossomed. They starred in a play together — Silverstein told the Daily Mail that Markle stole the show — but their relationship fizzled out when camp was over. Still, Silverstein said he was "excited" for her upcoming wedding.
"To be a person to grow up in LA, no ties with the royal family, or anything across the pond, to marry into it, that's exciting. I'm happy for her. She's very smart, got a good head on her shoulders, can handle herself, so she's going to have a fun ride. I'm very happy to hear that it seems like all her dreams are coming true. It's nice to know that someone from my past is doing so well.' 
Hopefully this kiss story makes it into the upcoming Meghan Markle/ Prince Harry Lifetime movie.