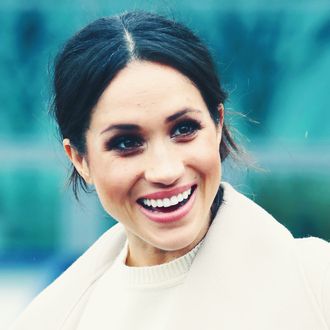 Meghan Markle.
Photo: Chris Jackson/WireImage
In less than two months, suit-wearing Suits star Meghan Markle will officially become royal when she marries the man who's (currently) fifth in line to the British throne, Prince Harry. But if you have any question as to what Markle will be like as a royal after the wedding, look no further than a newly surfaced video that's circulating online — of 8-year-old Markle pretending to be a queen (just like most of us did at that age).
Shot in 1990, the video shows young Markle at a birthday party in Los Angeles, as she wears a "gold" crown and acts in an impromptu backyard play with friends. The adorable play was apparently aptly titled "Your Royal Highness." Published by the Daily Mail — and released by Markle's (former) best friend of 30 years Ninaki Priddy, who has a habit of selling the actress out in the British press — the video shows that Markle acted in the play's starring role.
In the video, one girl calls Markle "your highness" and asks her if there's anything she needs done "around the kingdom." The actual future royal replies, "Yes. Make 900,000 cookies and sew me a nice dress," which we find to be a completely reasonable demand. And when asked what the cookies are for, young Markle replies, "It's for this meeting I'm having. I'm having people from Florida and Canada, Mississippi, Missouri."
According to E!, Markle also feigns a British accent at one point in the video. And toward the end of the recording, the cameraman asks, "Meghan, are you bored?" to which she honestly replies, "Yes," like a true queen.
You can watch a clip of the video here.