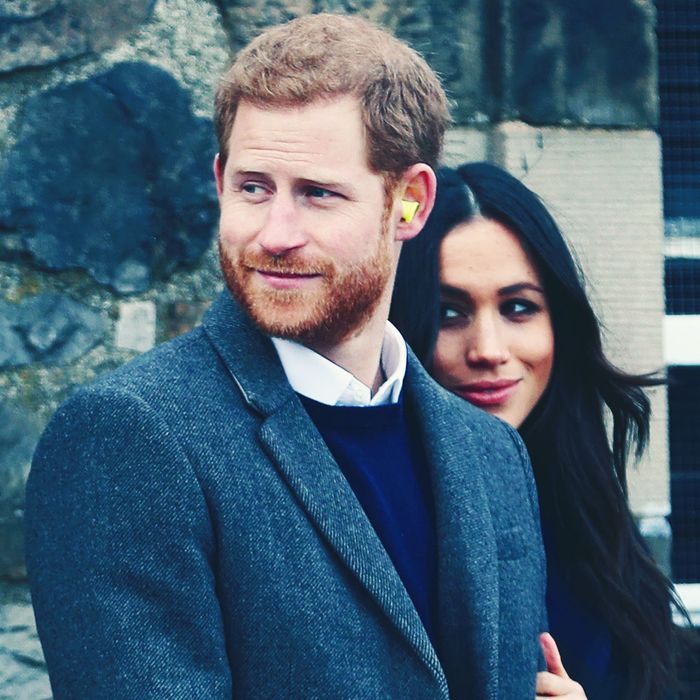 Prince Harry and Meghan Markle.
Photo: Jane Barlow/AFP/Getty Images
In October 2016, we received some devastating news: Prince Harry had a new girlfriend, and it wasn't us. Instead, it was American actress Meghan Markle. Luckily, we quickly got over our heartbreak and became obsessed with the new couple. Apparently, the rest of the world did just the same — to the extent that the now-engaged pair had to essentially go into hiding when news of their relationship got out.
In a new excerpt from the upcoming book Harry: Life, Loss, and Love published by Vanity Fair, writer Katie Nicholl reveals that the couple went to great lengths to avoid the paparazzi when their relationship became public knowledge. The news broke while the ginger prince was visiting Markle in Toronto, where she filmed Suits.
"A story was leaked that Harry had canceled a flight to Toronto to try and make it look like he was in the U.K., but photographers and reporters descended on Meghan's home regardless," Nicholl writes.
And so the pair did the unthinkable: They decided to crash at her friends's Jessica and Ben Mulroney's very fancy-sounding house – "spread over 3 floors and with impressive 14-foot-high ceilings" and an "open floor plan" — in Toronto. Nicholl continues:
"When Harry came to visit the family he brought a bag filled with gifts. He won the kids over in an instant. He was brilliant with them and I think what swung it for Meghan was how good Harry was with them," says a source. "I actually think that might have been the moment Meghan really fell for Harry. He got to know the Mulroneys quite well, and they liked Harry from the beginning."



In addition to providing a lot of details about the Mulroneys (as we've come to expect from Markle-related stories), the excerpt also reveals Markle felt the British press was "out to get her" after several insulting and racist stories were published. Her fear prompted Prince Harry to issue his November statement to the press defending his new girlfriend and decrying the harassment she'd been forced to endure.
Read the full excerpt here.