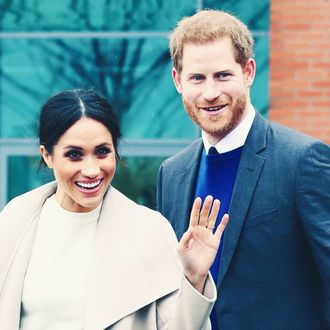 Meghan Markle and Prince Harry.
Photo: Chris Jackson/Getty Images
The most important day of the year (or possibly, our lives) is quickly approaching — the upcoming wedding between California queen Meghan Markle and British ginger Prince Harry. In the days leading up to the May 19 affair, the question on everyone's minds is: Where will these two crazy kids (by that we mean, incredibly wealthy and attractive royals) go on their honeymoon? Luckily, the British tabloids think they've cracked the case.
The Daily Mail and the Daily Express are reporting that the soon-to-be-married couple has decided to honeymoon in Namibia, Africa. Sources told the tabloids that Prince Harry and Markle will stay at several luxury lodges during their stay — switching locations quite a bit to keep their trip as private as possible.
The pair is reportedly booking their trip through luxury lodging company Natural Selection, whose newest location in the Hoanib Valley Camp of Namibia, a four-hour drive from the nearest town, goes for around $710 a night and will be completed in May (convenient timing!). Apparently Prince Harry picked the spot to avoid tourists with cameras.
We remain skeptical of some of the reports coming out about Markle and her prince, but this honeymoon spot seems plausible. The couple has already been to Africa together at least twice that we know of — they went to Botswana on one of their first dates (as one does) and later returned to Africa for a three-week holiday — and Markle's engagement ring includes a diamond from Botswana. So, it makes sense that they'd want to return to Africa to decompress after their (our) big day. Rude of them not to invite us along, though.