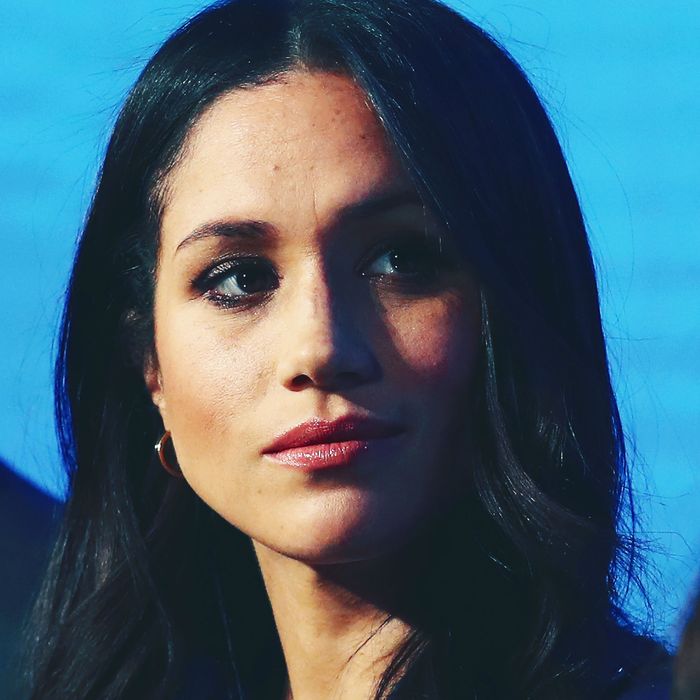 Meghan Markle.
Photo: Chris Jackson/Getty Images
Just like any bride-to-be, Meghan Markle has been incredibly busy in the weeks leading up to her upcoming royal wedding. She's had to make a ton of official appearances with her fiancé Prince Harry (and more importantly, future sister-in-law Kate Middleton) while also juggling wedding planning, finding the perfect dress, wearing a presumably heavy engagement ring, and, oh yeah, going through a staged kidnapping with elite army forces.
According to the British newspaper Daily Express, Markle recently spent two days in the English countryside to undergo security training sessions before she officially becomes royal. The exercises apparently included a "kidnap and rescue" portion — in which forces from the Royal Army's SAS regiment quite literally used live ammunition while rescuing the suit-wearing Suits queen from a fake kidnapping.
A former SAS officer told the Express that the live ammo would be used to help Markle learn what "real gunfire" sounds like if she ever finds herself in a hostile situation. The royal would have also been taught how to form a relationship with potential kidnappers, which is apparently better than trying to escape. The sessions also are said to have taught her how to act in worst-case scenarios, like when one of her rescuers gets shot and she has to fend for herself.
But lest you think this sounds weirdly intense, Express notes that each member of the royal family — including Princess Diana — has gone through similar training in the past. And one security professional even told Express that Markle likely had at least some sort of security training by now, given her close proximity to the royals.
Sheesh. No wonder she needed that spa bachelorette retreat.