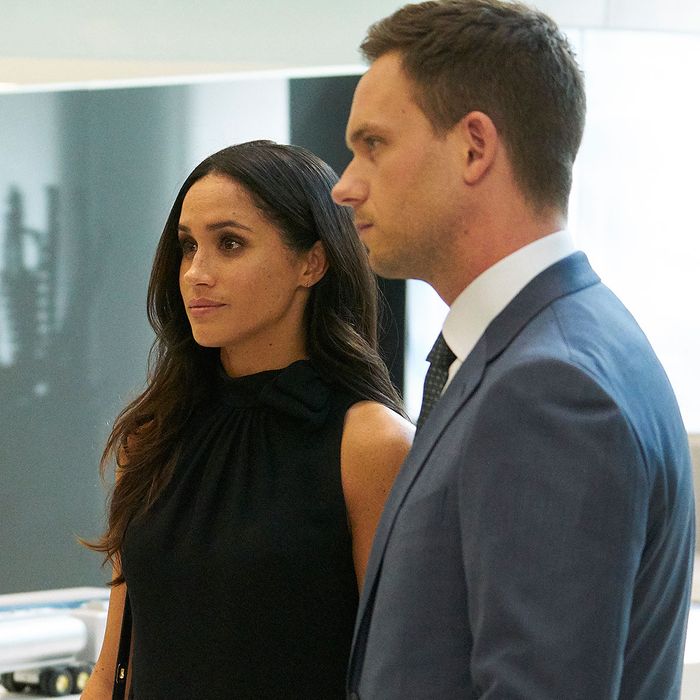 Rachel Zane (played by Meghan Markle) and ugh Mike (played by Patrick J. Adams) in
Suits
.
Photo: Ian Watson/USA Network
According to IMDB, the USA Network drama Suits has featured what appears to be hundreds of cast members at some point. But if that's true, then why is it that when I watched the show's Wednesday mid-season premiere, I saw only one person onscreen: the most important person in my life, Meghan Markle?
You've likely heard that the soon-to-be royal left the legal procedural (about a group of fancy corporate lawyers in New York City, but filmed in Toronto, and they all have a passion for drama). But did you know that before Meghan was able to do so, she was contractually obligated to film the second half of the series's seventh season? What a blessing for us! Episode 711 (entitled "Hard Truths") does not disappoint in terms of Markle content.
Meghan first appears 7 minutes and 43 seconds into the episode. The first thing we see are her hands and the flowy sleeves of her white shirt as she organizes papers in a legal storage room full of law boxes. Now, I know what you're dying to find out: Is there an engagement ring on her left hand? YES. That's because Meghan's character Rachel Zane is ALSO engaged. Rachel is marrying Mike, and in this scene, Mike is in the room with Rachel but we are not paying attention to him.
Anyway, Meghan/ Rachel continues to organize papers as the camera zooms out — to reveal that she's wearing a beautiful white turt with her perfect hair flowing past her shoulders. "I'm making some binders of all the key exhibits we need to submit for the Samsung case," Rachel says, explaining what she's doing with all that paper. Eventually, after some banter, she says to Mike: "I haven't said any vows yet, have you?" Now we all are thinking of the royal wedding! The scene ends, but we hardly notice because we are too busy wondering who is designing Meghan Markle's wedding dress. I personally think it will be the British designers Ralph & Russo, even though the "notable clients" section of their Wikipedia page doesn't mention the future royal (yet).
Meghan returns 22 minutes and 33 seconds into the program. This time, she's in the legal library — but still wearing that white turt, and now we can see more of her great pencil skirt. I would wear this same outfit if I were filming a legal drama in the cold Toronto weather. Rachel/Meghan is holding a big book and Mike (ugh) interrupts her from doing her job. "The other side on the Samsung [case] just hit us with a countersuit," Rachel says, updating us on this Samsung case we know literally nothing else about. She keeps reading and talking and walks from the bookshelf to a desk, and blah blah blah they chat for a while. It sounds like Mike really needs her advice and approval to get through life. I get it, she's great, but in my opinion he should be more independent.
Suddenly, it's 29 minutes and 28 seconds into the show, and there she is again! Now Meghan/Rachel is in Mike's office. It must be the next day, because it's sunny and she's wearing a different outfit — a black dress with turt-like qualities. Turns out she put her own Samsung work aside like a true saint to help Mike, and now she's basically solved his case for him. They go to another place — a different building — to do some lawyer wheeling-and-dealing work. Mike's honestly really lucky to have her. He seems pretty insecure and inept for someone who used to commit crime (fraudulently taking the LSAT for other people and fraudulently pretending to be a lawyer) for a living.
The episode slows down at 35:42, when we're in Mike and Rachel's well-lit apartment and they have a fire going. How romantic. Meghan/Rachel is wearing lounge clothes. "You hungry?" she asks Mike when he's at the fridge. Meghan Markle looooves to cook — so this is such a "her" thing to ask. They chitchat about working on more cases together, and Meghan/Rachel says what we've been waiting for: "If this is about making time together, then why don't we make time for what's really important?" They both say in unison, "The wedding." Ding, an angel gets its wings. She continues, "It's going to be here before we know it, and we haven't done anything we need to. So, let's stop putting it off."
You know what this means? We have been given an entire second half of the seventh season of Suits to watch Meghan Markle plan a wedding — just before we get watch her royal wedding to Prince Harry on May 19. I'm so excited to see if Rachel Zane's wedding is also going to be at Windsor Castle's St. George's Chapel in England!