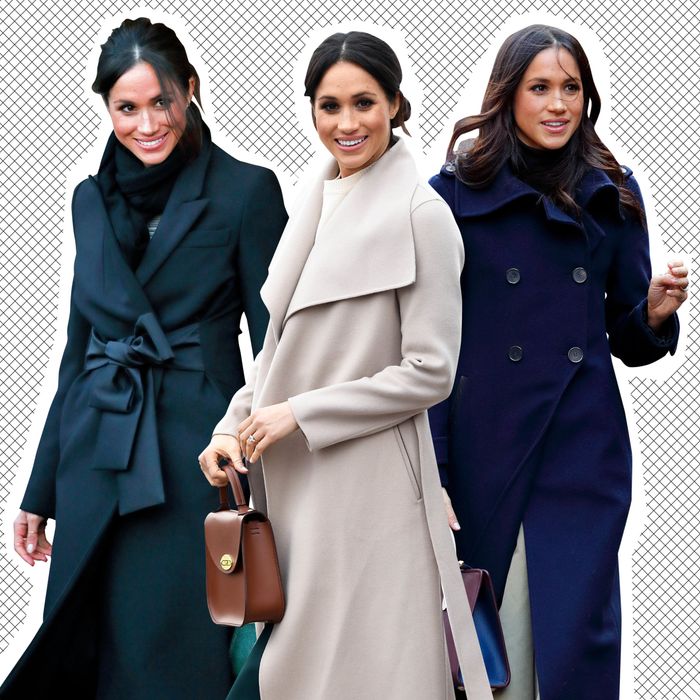 Future royal and current style icon Meghan Markle starts a trend pretty much anytime she puts clothing on her body. It's about fashion, yes, but it's about so much more, since her every pair of ripped jeans or messy bun gets interpreted like modern-day Morse code. In particular, the ex-actress has been recognized for her show-stopping outerwear selections — so much so that the the "Meghan Markle Power Coat" is an official sartorial subgenre (just ask Mindy Kaling).
But which power coat is the most powerful? Glad you asked. Below, we've ranked the top ten.
10. The Long Wrap, by Sentaler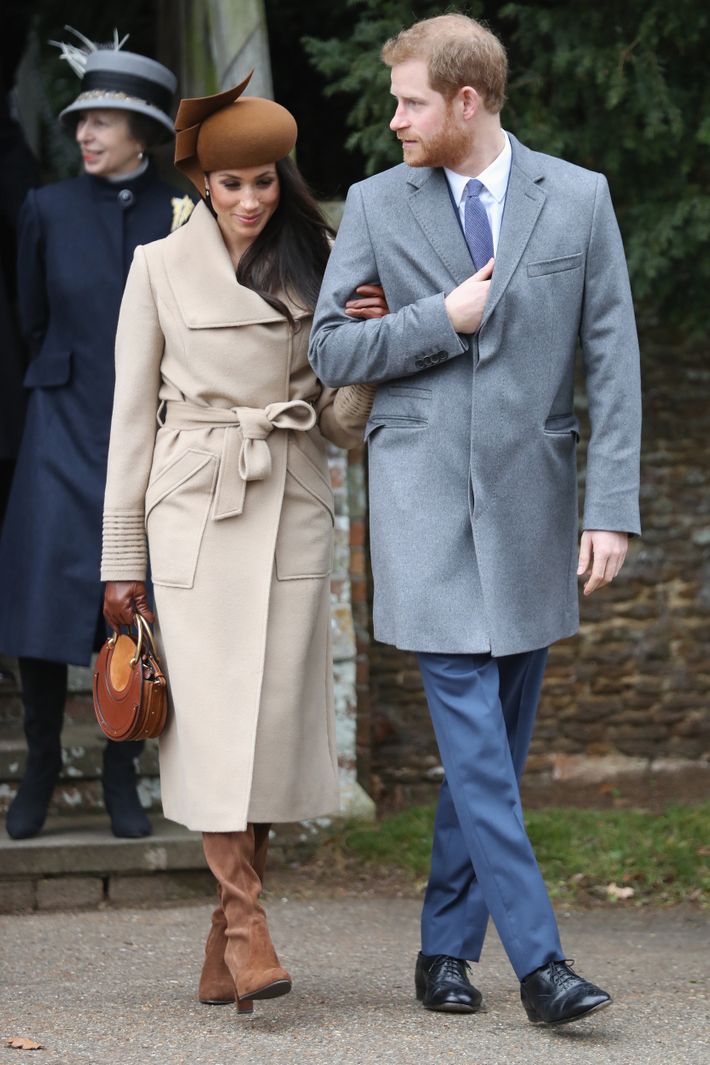 When and where: Holiday services at Sandringham, December 25, 2017
How much: $1,395
Why: Simple, but made distinct by Sentaler's signature ribbed cuffs, this coat caused such a fuss across the pond that the Canadian label launched a pop-up during London Fashion Week. But what could have been a triumph was marred by a truly crappy hat selection. You'd think a headgear that looks like the poop emoji would be an obvious pass.
But can you buy it? Yes, but you'll have to wait a bit. The camel version (which sold out immediately) is available for preorder, shipping in June. Or get the pink version now. The hat was one of a kind.
9. The Baya Moto, by Mackage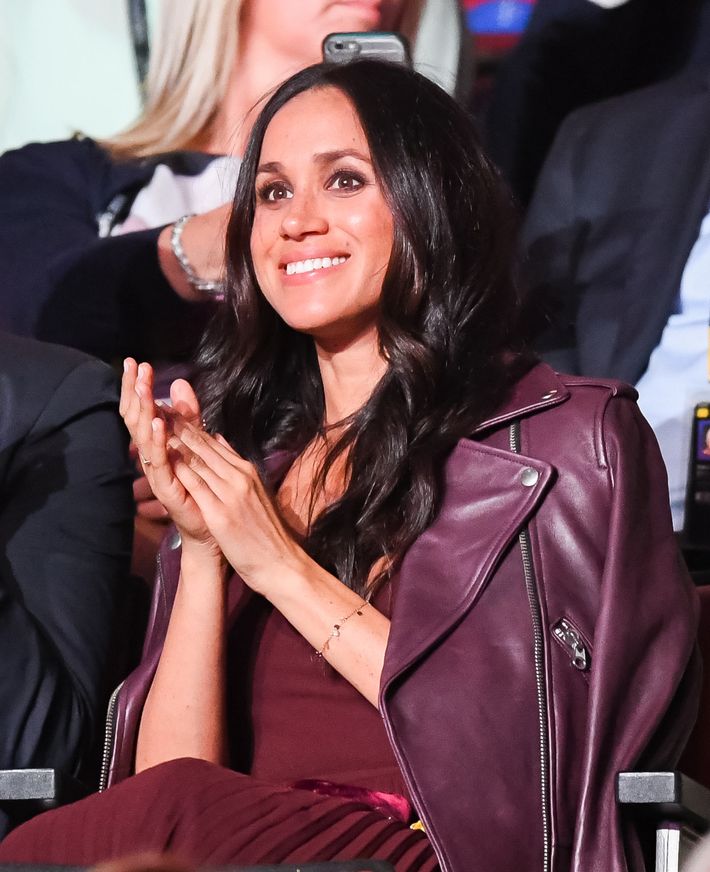 When and where: The Invictus Games opening ceremony in Toronto, September 23, 2017
How much: $576
Why: It's likely that Markle's "Bad Sandy" biker-jacket days are behind her now, but last fall she was a mere royal side piece, subject to fewer restrictions around self-expression. The style of this jacket suggests anarchy, but the color says, please pass the Grey Poupon. Plus she's wearing it draped over her shoulders — a long-established power posture for celebrities and fashion-world types (if entirely impractical for royal-waving purposes.)
But can you buy it? Not in the Bordeaux hue, but you can get it in black and white.
8. The Brando Coat, by Smythe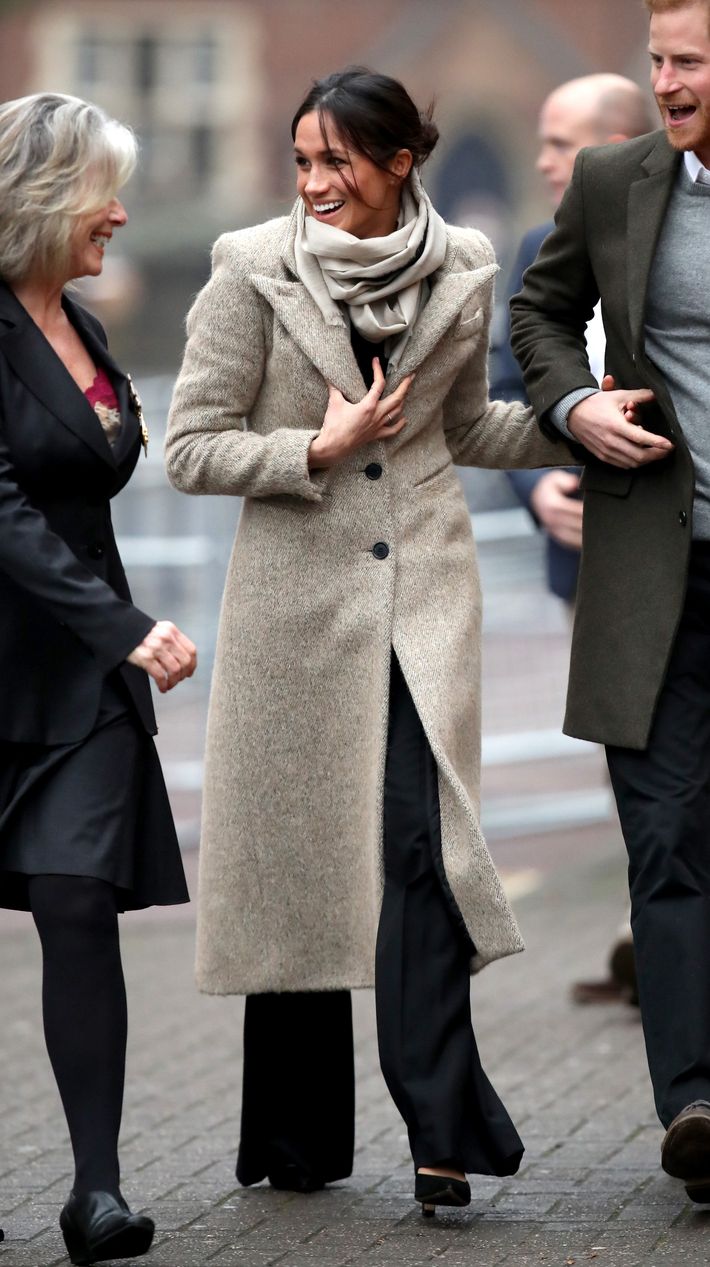 When and where: An appearance at Reprezent FM radio station in London, January 10, 2018
How much: $803
Why: An early example of what will become Markle's signature (per the Telegraph) "dressing gown silhouette," this low-key Canadian coat is the opposite of prissy. The brand is a favorite of celebrity fashion cool girls like Karlie Kloss and Gigi Hadid.
But can you buy it? The coat, which was rereleased for preorder on the same day she wore it, is no longer available.
7. The Elodie, by Mackage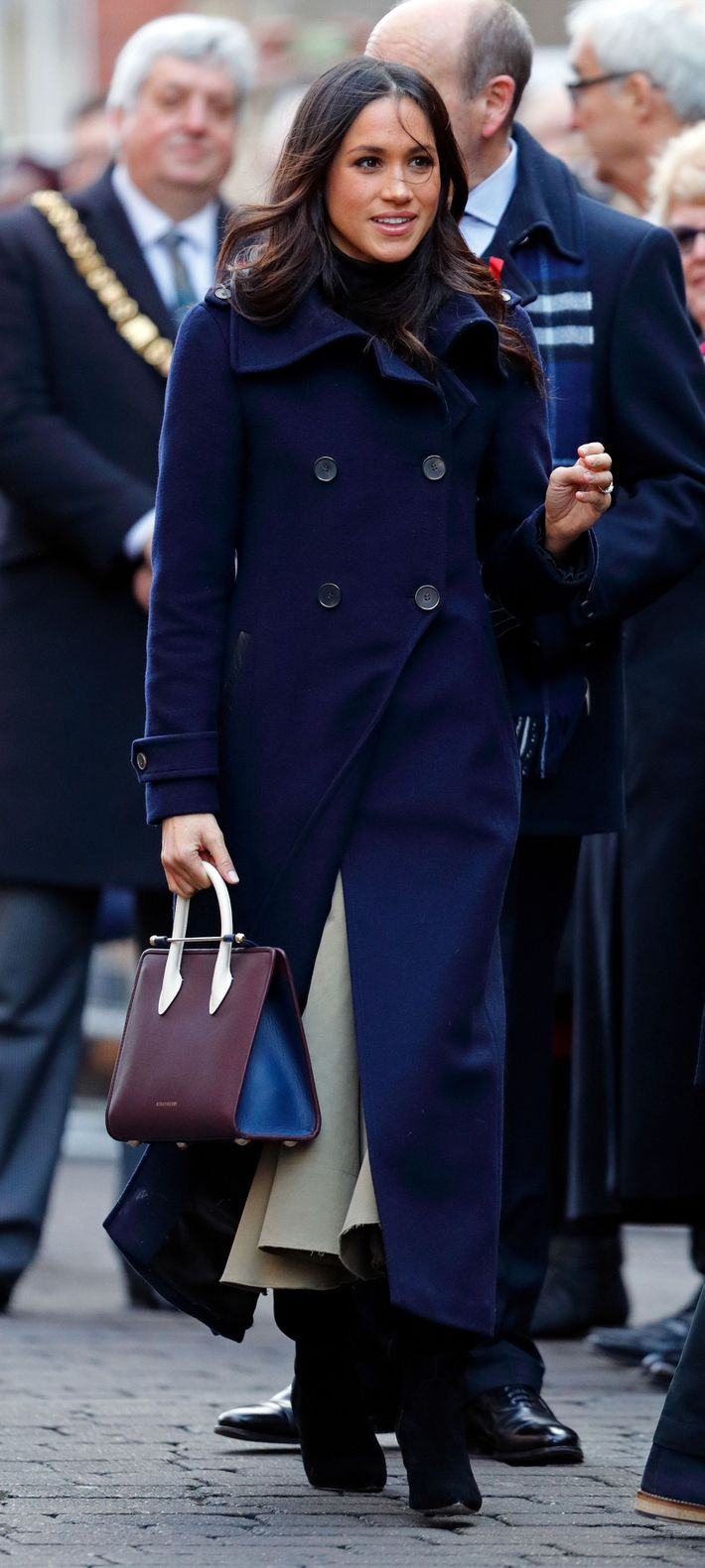 When and where: World AIDS Day in Nottingham, December 1, 2017
How much: $600
Why: Markle played it safe in a classic pea for her first royal outing, though the coat's Canadian provenance shows she's not trying too hard to suck up to her future subjects. Getting Harry to match was a nice touch.
But can you buy it? Only in XXS.
6. The Tipped Topcoat, by J.Crew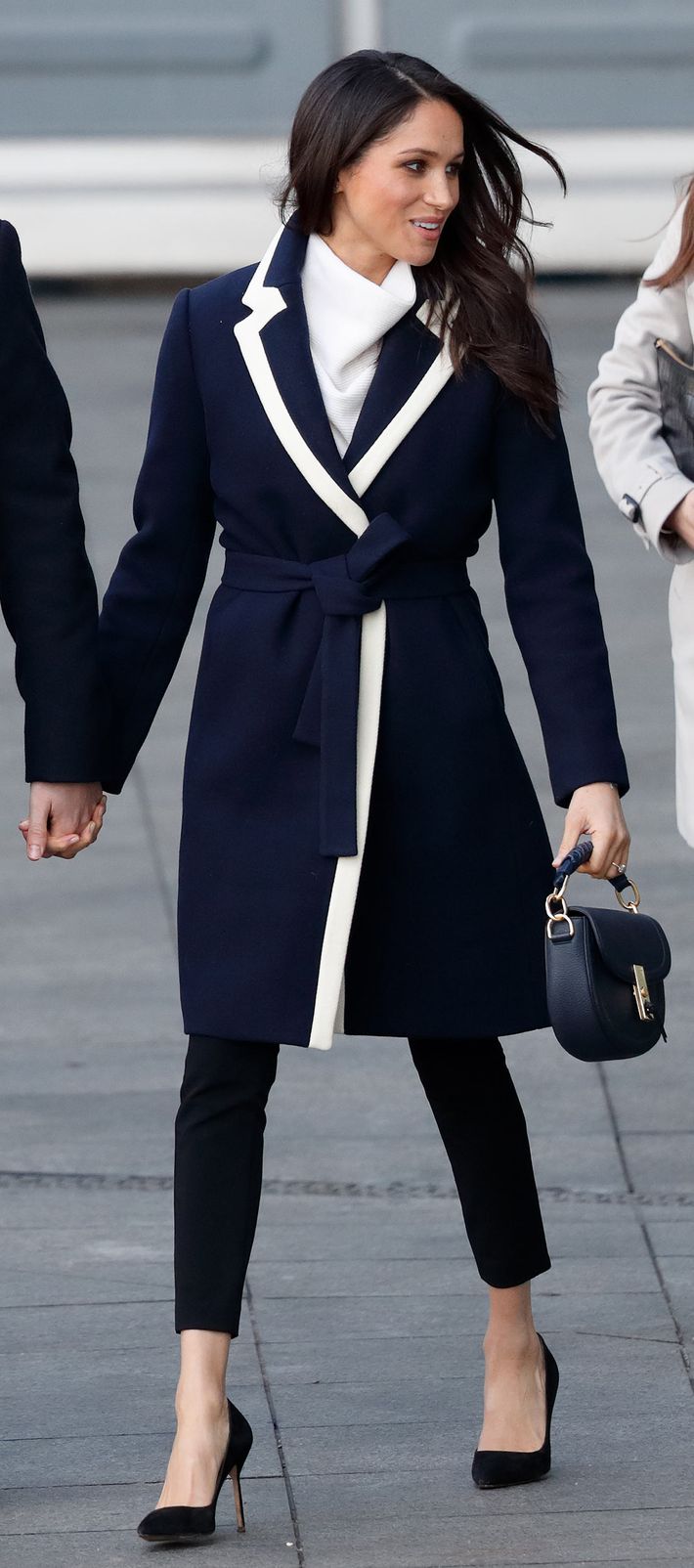 When and where: An International Women's Day event, March 8, 2018
How much: $298
Why: She's hardly the first celeb to pull a Michelle Obama, wearing the classic American brand to convey "just like us" credentials. This expression of Everywoman-ism was exceptionally (maybe intentionally) well-timed given that it came shortly after reports of a $550,000 wedding gown. Meanwhile, the lowly tack stitch gets an unexpected burst of free publicity.
But can you buy it? A Meghan Markle–endorsed coat for under $300? Good luck with that.
5. The Tie-Detail Coat, by Stella McCartney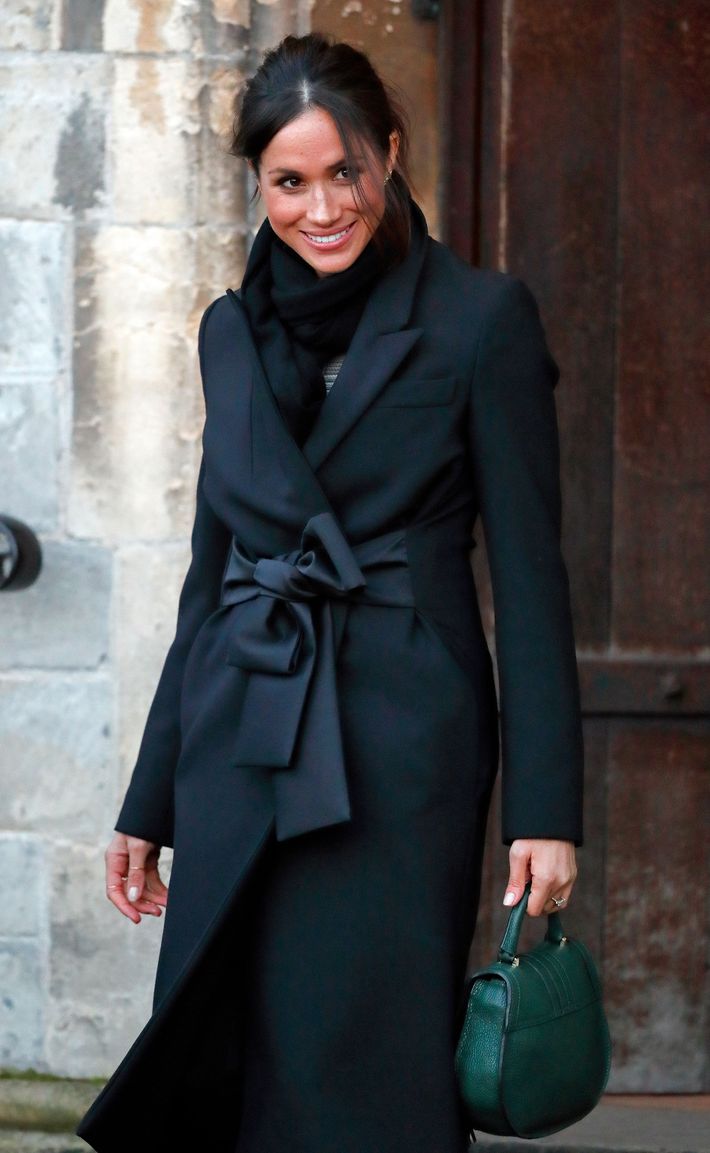 When and where: A walkabout of Cardiff Castle, January 18, 2018
How much: $1,892
Why: Topped with a coat by one of Britain's most influential modern designers, this monochrome look would have set off some alarms back at Buckingham. Because while black-on-black is as basic as jeans-and-tee for common folk, royals only go goth when they are in mourning. The coat was also interpreted as an endorsement of McCartney's cruelty-free politics, and a nod to Markle's new homeland.
But can you buy it? No. Both the pricy OG and the knockoff version are sold out.
4. The Sculpted Tailoring Crombie Coat, by Amanda Wakeley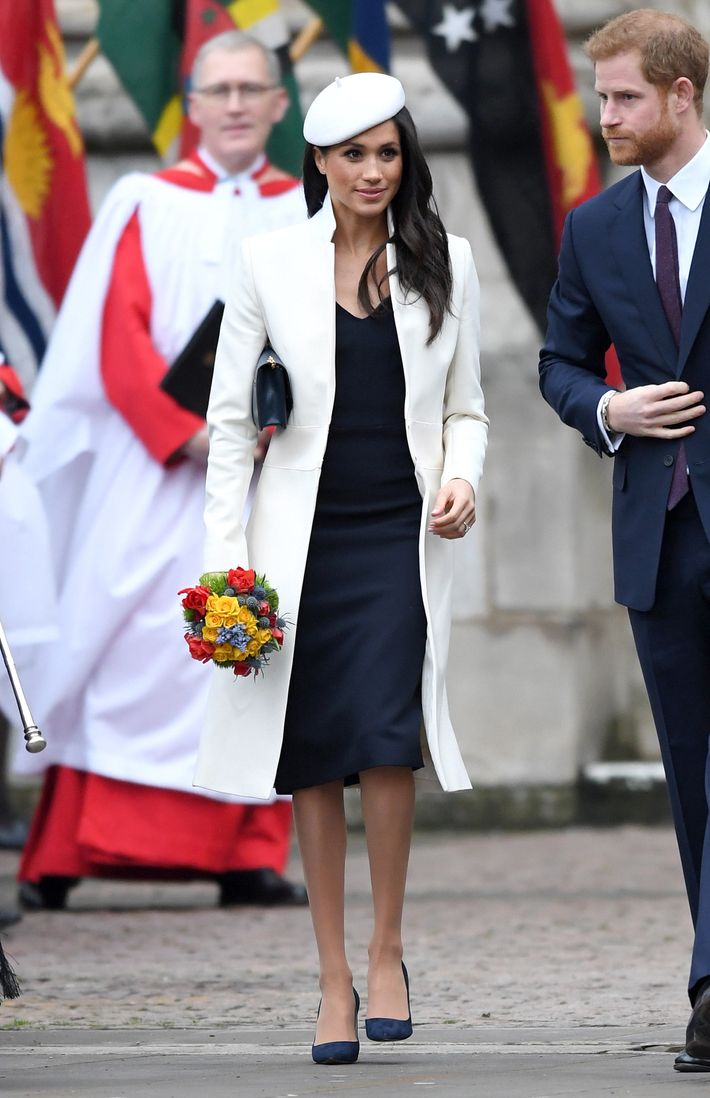 When and where: Commonwealth Day services at Westminster Abbey, March 12, 2018
How much: $1,199
Why: The best part about this winter-white look was the way it made the rest of the royal fab four look like Markle's backup band. And of course the jaunty cap, which royal watchers say is a tribute to Princess Diana. Either way, it looks absolutely nothing like a cartoon turd.
3. The Double-Breasted Tartan by Burberry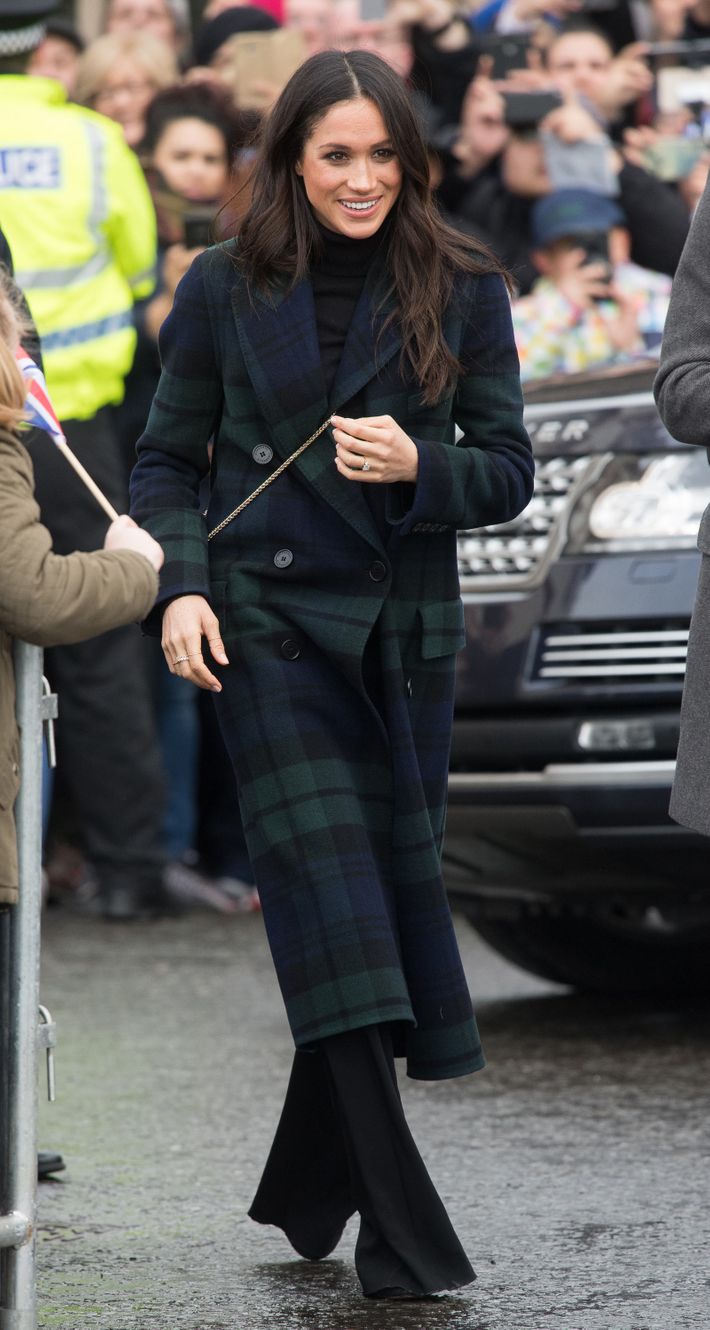 When and where: Markle's first visit to Scotland
How much: $2,793
Why? Yes, she was wearing the same outfit as an adorable mini horse, but she wore it better, okay? This slouchy, menswear-inspired ensemble provides a prime example of Markle's plan to be a different sort of duchess — the effortlessly cool Serena van der Woodsen to Kate Middleton's uppity Blair Waldorf. Just look at her cross-body purse, already a break from tradition. Apparently Middleton and most other female royal women carry a clutch to avoid awkward handshake situations — but Markle's more of a hugger.
But can you buy it? Yes. Limited sizes are still available here.
2. The Mai, by Mackage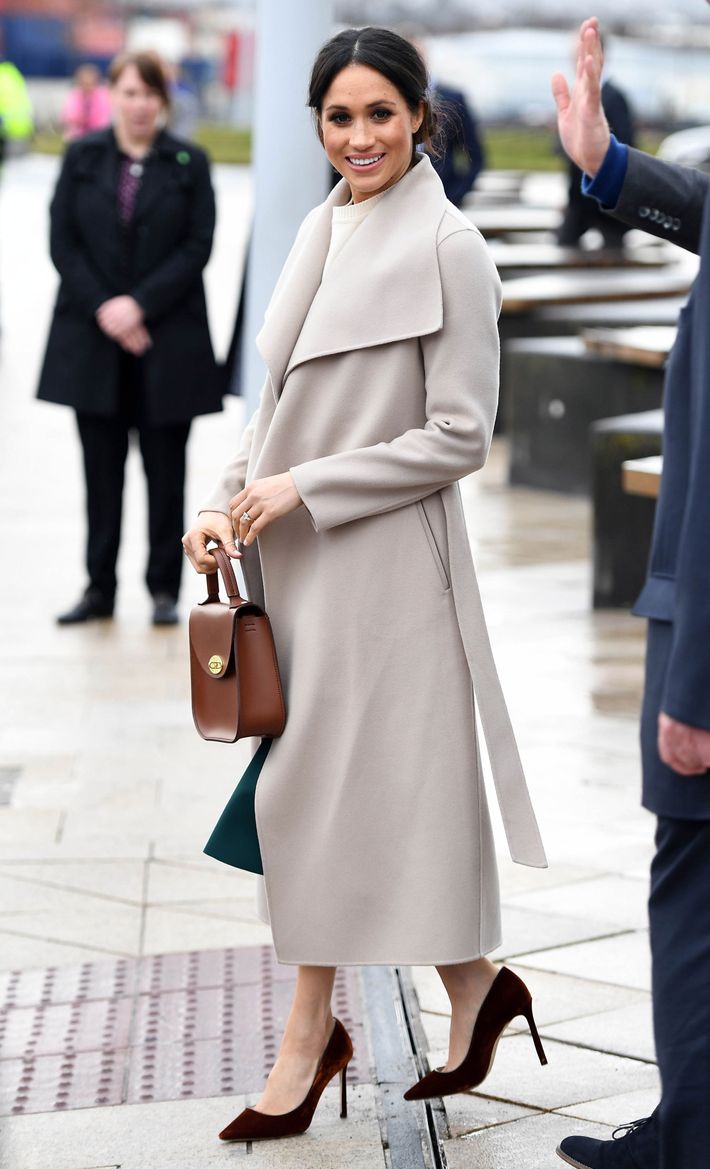 When and where: A surprise visit to Northern Ireland, March 23, 2018
How much: $790
Why? Spring has sprung, and Markle gets points for pulling power-coating into a whole new season. At her most recent appearance, the actress turned royal outerwear ambassador wore yet another coat by Mackage, the Canadian brand that should probably consider changing it's name to Markage at this point. Some have noted that this look, which includes a Victoria Beckham sweater we've seen before, shows Markle adopting Kate Middleton's sensible wardrobe frugality, but if anything, we're seeing the reverse. The pregnant Duchess stepped out for her last royal appearance before child birth in a look that is far less mumsy than usual; why, Kate, is that a Meghan Markle power coat you're wearing?
But can you buy it? This coat set a new record, selling out within an hour of a surprise appearance. The good news—it is now available for pre-order. Act fast or live in regret.
1. The Meghan, by Line the Label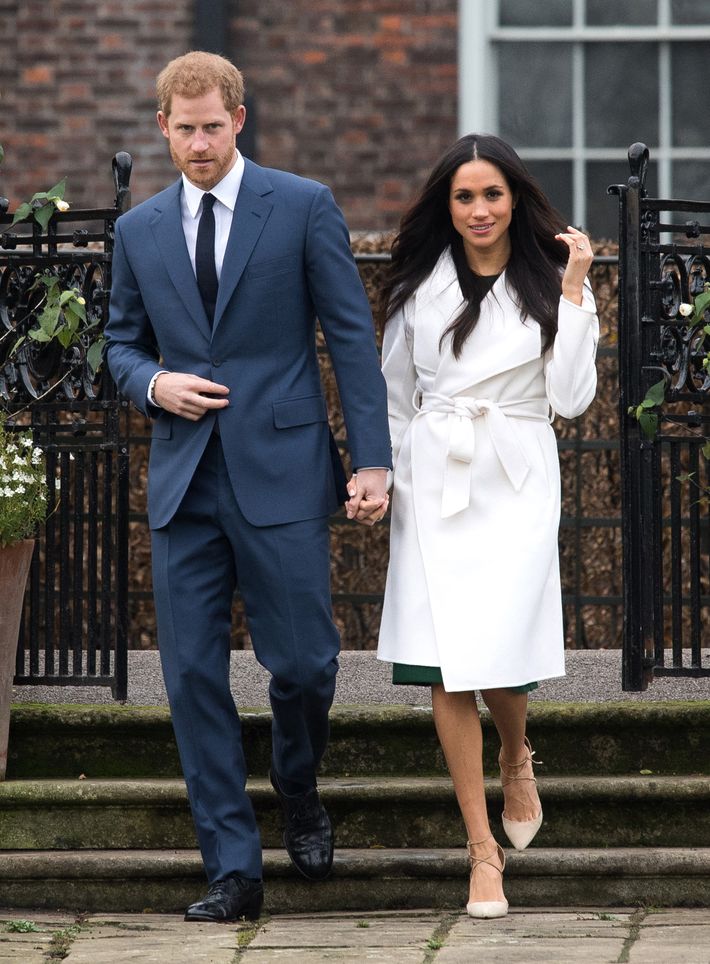 When and where: The official engagement announcement, November 27, 2017
How much: $750
Why? You know you're influential when the things you wear get named after you. That's what happened after MM wore an unabashedly bridal coat for her first post-engagement appearance with Harry. The seemingly simple garment covers a lot of key coat messaging: It's glamorous in an unfussy way; it's Canadian; and it garnered so much attention that the website for the previously unknown label was down for days. Not since Cruella de Vil has a white coat left such a memorable impression.
But can you buy it? Just last week the "winter white" was rereleased. Aaaaaaand … it's already out of stock. Better luck next time.