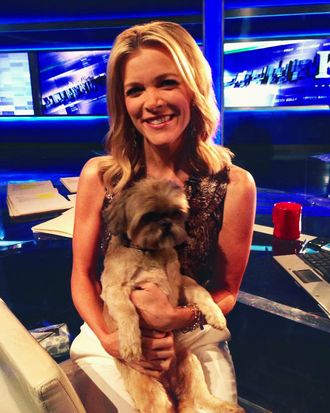 Megyn Kelly and Dasha.
Photo: Megyn Kelly via Facebook
Megyn Kelly's dog took a brief sojourn in a total stranger's lavish Montana villa after her absentminded caretakers unintentionally abandoned her there during their vacation in the Big Sky Country.
Like all classic vacation-gone-wrong stories, which Kelly recounted this morning on Megyn Kelly Today, this family trip started out well. She, her husband, their three children, and their dog, Dasha, were decompressing in the West, where they were planning on staying in a rental home. While seeking out their aforementioned lodging, the Kellys accidentally walked into the wrong extravagant home (and possibly committed breaking and entering?), where they discovered the family who had presumably rented the space — and ran out of the house without saying a single word.
The escape plan was all well and good until Kelly's husband realized they had forgotten poor Dasha — or, to use Kelly's words, they'd left behind "evidence."
"We left her — our evidence — at the first house," she said. "So we had to do the walk of shame back to the first place."
Bravely venturing back to the home to rescue the damsel in distress, Megyn apparently reentered the home after greeting the family staying there, and retrieved Dasha. "We were busted," she told the audience, and then clarified that her family was happily reunited with Dasha.
What this pet-abandonment segment did for Megyn Kelly Today's poor ratings is yet to be determined.