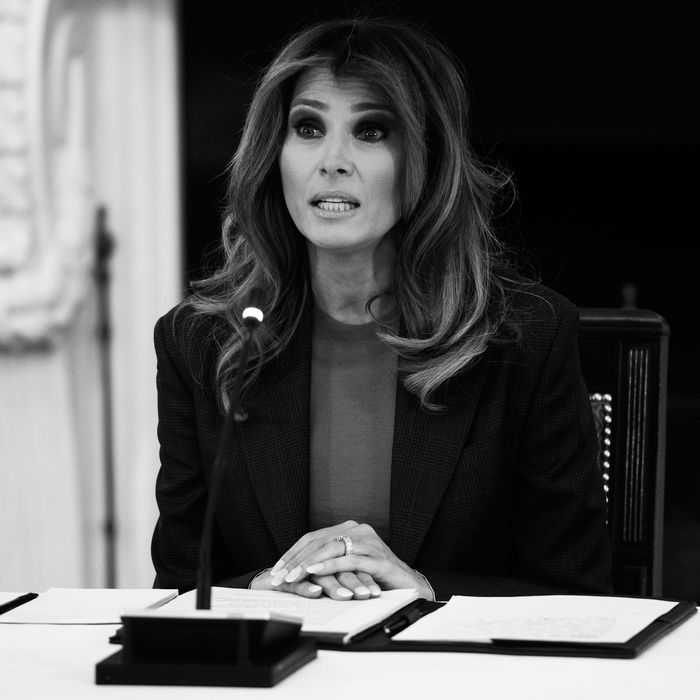 Melania Trump.
Photo: Saul Loeb/AFP/Getty Images
During a White House tech summit about cyberbullying on Tueday afternoon, First Lady Melania Trump — the wife of a noted cyberbully — revealed that, well, she basically knows what we've all been saying about her online.
"I'm well aware that people are skeptical of me discussing this topic," Trump said at the event, which was attended by leaders in the tech industry. "I have been criticized for my commitment to tackling this issue and I know that will continue."
Trump hinted that she would be making cyberbullying her First Lady pet project before her husband was elected in November 2016. Since then, many have pointed out the irony that her husband, the president, is a major cyberbully himself. (Take, for instance, his gross tweet about Senator Kirsten Gillibrand or all his tweets about Special Counsel Robert Muller).
The First Lady recently said that she hopes to "encourage positive habits on social media and technology, even limiting time online and understanding the content they are exposed to on a daily basis." And at the Monday event, Trump vowed to not let the criticism she's received deter her. "It will not stop me from doing what I know is right," she said. "I'm here with one goal: helping children in our next generation."
No word on whether the criticism will lead the First Lady to get her husband to stop tweeting, though.