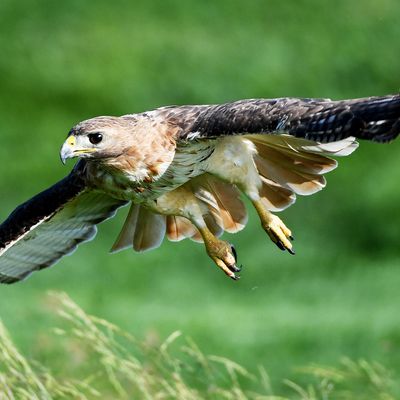 Red-tailed hawk.
Photo: Ross Kinnaird/Getty Images
An explosive avian love affair has shaken a New York City park. After a quick three-month-long stint in rehab, the park's ruling female hawk, Dora, returned home to find her longtime partner and the father of her children cheating on her with a feathery mistress.
Dora and her unfaithful mate, Christo, have for the past five years ruled the East Village's Tompkins Square Park, where they've raised 10 healthy babies together. According to blogger Laura Goggin, who has been documenting the messy affair and spoke to the New York Post, the homewrecking hawk, Nora, "swooped in the second Dora left." Christo, the slimy scumbag, reportedly invited Nora to mate with him in the nest he shares with Dora.
"It put a bad taste in our mouths to see him with a mistress," local resident Helen Stratford told the Post.
When Dora returned from rehab for a bone infection, she confronted the two love birds. "The three of them flew around each other screaming," Goggin told the Post. "It was chaos."
According to onlookers, though, it appears that Christo didn't completely ditch Dora for his mistress — instead, the Casanova is trying to make it work with both of his lovers. While he's currently mating with Nora, he's been spotted bringing Dora sticks to build her new nest, as well as dead rats to eat.
We'll see how long he can get away with that routine.