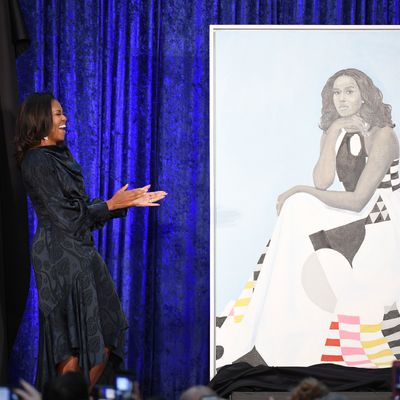 Michelle Obama and her portrait.
Photo: The Washington Post/The Washington Post/Getty Images
Michelle Obama's breathtaking portrait by Amy Sherald isn't only eliciting strong reactions from adorable little girls who think the former First Lady is a queen. Apparently, so many people have been clamoring to view the painting that the Smithsonian's National Portrait Gallery had to move the extremely popular work to a bigger space, due to the high volume of visitors.
In a tweet earlier this month, the museum wrote that it had relocated Obama's portrait to the third floor of its 20th-Century Americans galleries "for a more spacious viewing experience," from its original spot on the gallery's first floor.
The portrait — as well as Kehinde Wiley painting of former President Barack Obama — was only just unveiled in February. That month, the museum had more than 176,700 visits — which made it the busiest month it's had in three years — and last weekend alone there were an astounding 45,000 visits.
The portrait received overwhelmingly positive response after it was first unveiled, but truly went "viral" (if a painting can even go viral, that is) after awestruck 2-year-old Parker Curry was pictured staring up at the image. The First Lady later invited the little girl over for a too-cute dance party, during which they danced to "Shake It Off."
But none of us should really be surprised by the work's success. Of course Michelle Obama, the portrait, would be just as popular as Michelle Obama, the former First Lady.