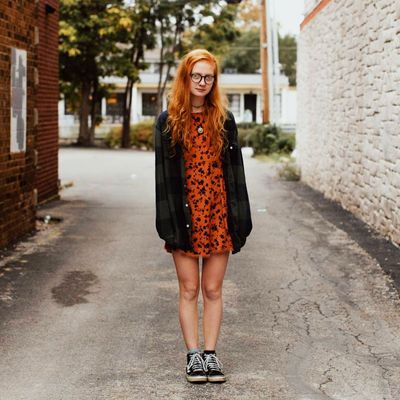 Erin Bailey.
Photo: Courtesy of Erin Bailey
A high school senior from Mike Pence's hometown is organizing the Indiana city's first-ever Pride festival — partly because she wanted to recognize and celebrate the LGBTQ community, partly because she needed a "senior project" for school.
Eighteen-year-old Erin Bailey, a self-described progressive who's lived in Columbus, Indiana, her entire life, wasn't inspired by any of the past projects her school's alumni presented during a panel. What she instead found to be impressive was a Pride film festival in nearby Bloomington — a progressive hippie stronghold that stands out in the staunchly conservative state.
"I got the idea for a Pride festival and the fact that it's Mike Pence's hometown made it even more perfect," Bailey told the New York Daily News. "I don't agree with anything that he stands for."
While the city of fewer than 50,000 people is associated with America's homophobic vice-president, Bailey describes Columbus as "a little pocket in Indiana filled with culture" that's becoming increasingly progressive. However, it's never hosted anything like an LGBTQ Pride festival before, she told the Daily News, which she's excited to change.
"People in Columbus have been very supportive," she told the Cut. "I appreciate them standing with me."
According to the Facebook event page, the festival is planned for April 14 and will feature educational booths, vendors, foods, and performances. And, while it's unlikely that he'll be in attendance, Pence himself has even acknowledged the event.
"Vice-President Pence commends Erin Bailey for her activism and engagement in the civic process," spokesperson Alyssa Farah said in a statement. "As a proud Hoosier and Columbus native, he's heartened to see young people from his hometown getting involved in the political process."
Though Bailey appreciates the response, she's not wholly convinced his expressed sentiments are genuine.
"It's nice he acknowledged what I'm doing," she told the Cut, "but I'm not sure how sincere it is."