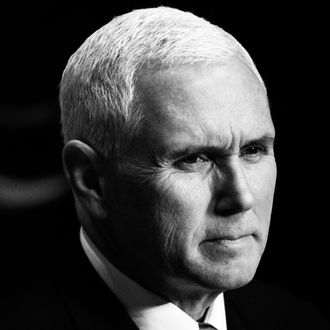 Mike Pence.
Photo: Drew Angerer/Getty Images
Here are just some basic facts about how Mike Pence relates to women: He calls his wife "Mother" and he's not allowed to dine alone with any women besides her. While he was Governor of Indiana, he made several disastrous decisions about women's health, including signing a bill that required burial or cremation of fetal remains. He recently said that he was confident abortion would end in the United States "in our time" and boasted about the anti-choice legislation the Trump administration has supported thus far.
The same Mike Pence decided to broadcast how much he respects women in an International Women's Day tweet that's only slightly less embarrassing than McDonald's flipping their golden arches to a W.
"Today, on #InternationalWomensDay — and ALL days — we recognize the countless contributions women have made to our economy, our communities, & our Nation," he wrote. "The Trump Admin will continue to strive to empower women across America to keep making a profound impact."
Unsurprisingly, this sentiment raised several eyebrows:
We're sure Mother did her best to comfort him.