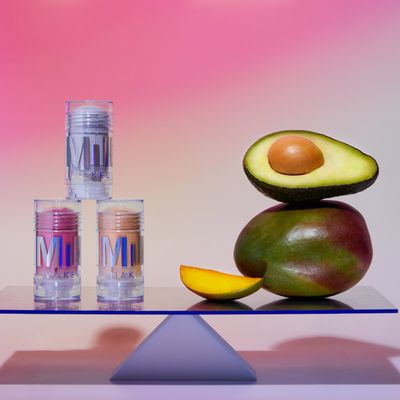 Photo: courtesy of Milk Makeup
From lipsticks that contain carmine (red dye from beetles) to moisturizers that are made with lanolin (a waxy substance from sheep glands), shopping for vegan beauty products can be tough. But according to Milk Makeup, the coolest thing in beauty is to go vegan, which is why the trendy brand has overhauled all of its products to be more animal-friendly. Milk Makeup is now completely vegan, cruelty-free, and still 100 percent comparable to other makeup brands.
Going vegan was the next logical step for a brand that has strived to keep toxins out of its products and has been cruelty-free since it was founded. "There is no animal product or by-product that doesn't have a safe natural or synthetic alternative," said Milk's co-founder Dianna Ruth. Milk's products will no longer contain animal-derived ingredients like honey, beeswax, gelatin, or cholesterol. If committing to a wholly vegan diet or swearing off wearing leather seems daunting, swapping out your go-to primer for a vegan one is a no-brainer.
The easiest swaps are Milk's Sunshine Oil, a moisturizing face and body oil that makes skin look glowy, as if the sun is eternally shining, a creamy lipstick with high-color payoff minus the bugs, and a vibrant glide-on highlighter stick made with mango butter. And if you've been itching to get a tattoo — permanent ones aren't vegan — then Milk's Tattoo Stamp might hold you over, at least for a little while.
You can shop the vegan and cruelty-free products at Sephora, or on Milk's website now.
Photo: courtesy of Milk Makeup
Photo: courtesy of Milk Makeup
Photo: courtesy of Milk Makeup
Photo: courtesy of Milk Makeup
If you buy something through our links, New York may earn an affiliate commission.