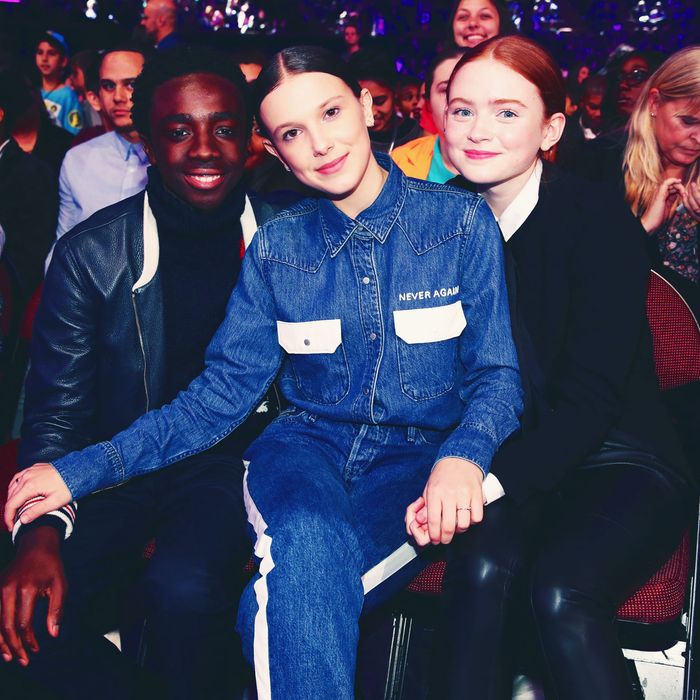 Millie Bobby Brown.
Photo: Chris Polk/KCA2018/Getty Images
Millie Bobby Brown may not have been able to catch one of the 800 worldwide March for Our Lives protests against gun violence Saturday afternoon, but she had the #NeverAgain movement in mind.
The 14-year-old Stranger Things star was in Inglewood, California, yesterday for the 2018 Nickelodeon Kids' Choice Awards, where she showed up wearing a #NeverAgain-inspired, all-denim ensemble by Calvin Klein. Above the left pocket of her jean jacket were the words "NEVER AGAIN," and stitched on the back were the names of the 17 people who tragically lost their lives during the school shooting at Marjory Stoneman Douglas High School in Parkland, Florida.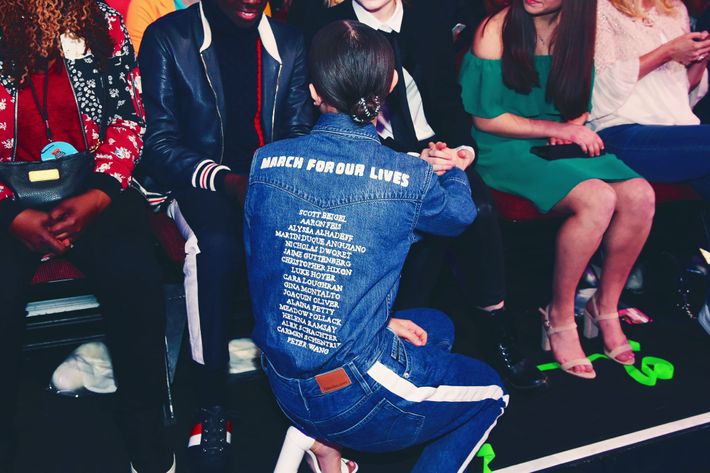 After winning the award for Favorite TV Actress, she praised the March for Our Lives, pledged to use her platform to advocate for change during her acceptance speech, and dedicated her award to "the angels among us."
"As we saw a moment ago, the March for Our Lives demonstrations that took place all over the world today have inspired me and impacted us all in one way or another," she said. "I'm fortunate to be here tonight to receive an award as an actor. I'm so very grateful, and I appreciate all the love and support of my fans, and the opportunity that our show, Stranger Things, has created for me."
She continued: "But more than anything, I get to be up here, and I'm privileged to have a voice that can be heard, one that I can use to hopefully make a positive difference and help influence change."
Watch the full speech below: