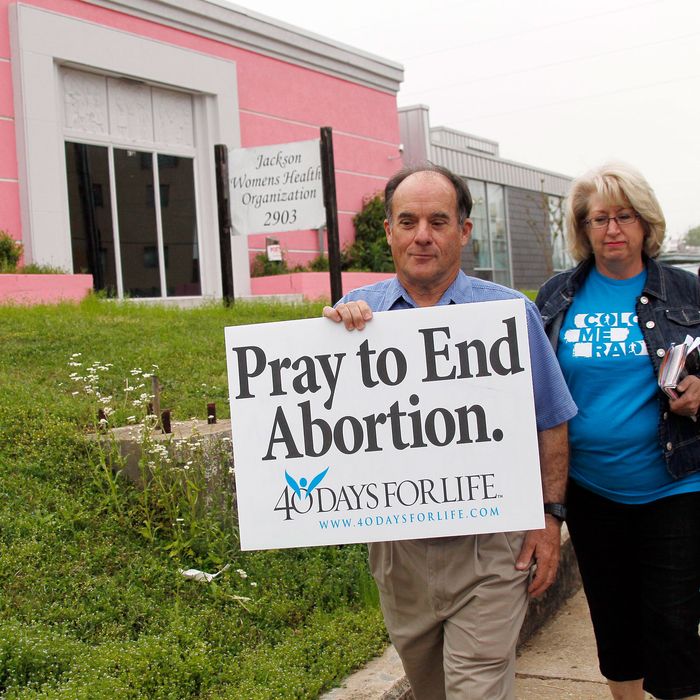 Jackson Women's Health Organization.
Photo: Rogelio V. Solis/AP Photo
Mississippi just got one step closer to passing what would be the most restrictive abortion legislation in the country, AP News reports.
All signs point toward the state — which already bans most abortions after 20 weeks — adopting House Bill 1510, which would ban almost all abortions after 15 weeks of pregnancy. With two exceptions: if the fetus has a "severe" abnormality that would prevent it from surviving outside of the womb, or if the pregnancy threatens the woman's life. Women who become pregnant as a result of rape or incest would not be exempt.
After being passed in both the House and the Senate this week, the bill, also known as the Gestational Age Act, will return to the House for lawmakers to look over any of the Senate's modifications.
If the House approves the changes, the bill will then move to Republican governor Phil Bryant, who has indicated that he'll sign it. And it seems unlikely he'll waver: In 2014, he delivered a speech in which he said that "[his] goal is to end abortion in Mississippi."
Unsurprisingly, the proposed piece of legislation is replete with anti-abortion talking points and language. It frequently assigns personhood to fetuses, referring to them as "unborn children" and "unborn human beings," and argues that the "medical, emotional, and psychological consequences of abortion are serious and can be lasting."
For those familiar with Mississippi's abortion laws, which are already some of the most restrictive in the country, the success of HB 1510 isn't all that surprising. Mississippi is one of seven states that has just one remaining abortion clinic, Jackson Women's Health Organization, which has long been targeted by anti-abortion crusaders, neighboring crisis pregnancy centers, and lawmakers.
Diane Derzis, the clinic owner, has pledged to fight against the law if Bryant signs it. "I'm not surprised," Derzis told the Clarion Ledger after the Senate vote. "We will be planning to sue."
Jennifer Riley Collins, executive director of the ACLU of Mississippi, also responded to the State Senate's vote, expressing disappointment and urging Bryant to veto the bill.
"If HB 1510 becomes law, it will end up at the center of a legal battle, wasting tens of thousands of taxpayer dollars in legal fees," she said in a statement. "It is not the legislature's job to interfere with a woman's decision about whether and when to become a parent. Their job is to promote people's health and well-being, not restrict access and cause additional burdens upon the state."