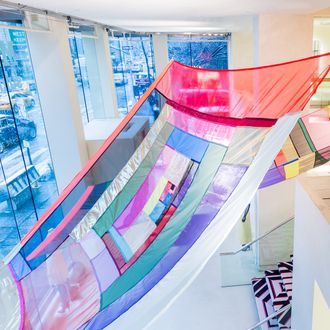 Fashion designer Angela Missoni staged one of the most colorful shows in Milan last fall by hanging rainbow tapestries like kaleidoscopes over her runway. Now you can see them in New York, at Missoni's flagship store on the Upper East Side.
Hand-sewn for the show by the New Mexico–based textile artist and sculptor Rachel Hayes, the bright patchwork textiles cast a rainbow-tinted light on models' faces, their giant hats, and the summer collection's sparkly, breezy clothes.
On Madison Avenue from now until June 30, passersby can walk inside the Missoni store to check them out. Two tapestries hang from the store's ceiling like a small, summery getaway, made of ripped nylon, shimmery organza, and gold lamé. Titled "Dreams of Being," the installation is part of creative director Angela Missoni's ongoing Surface Conversation art series.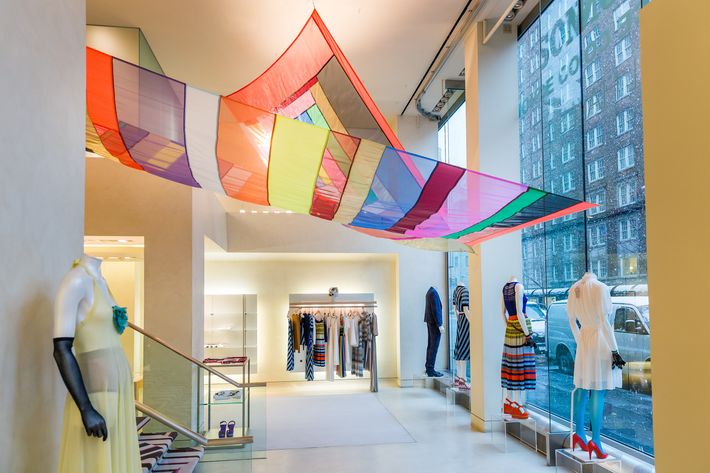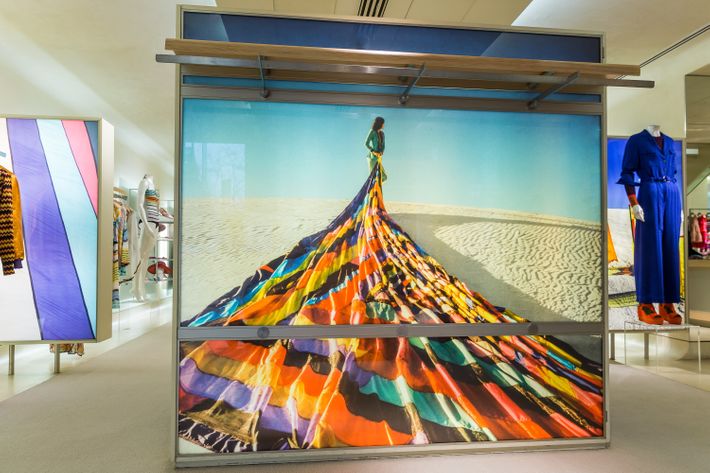 Missoni discovered Hayes on Instagram, after Hayes posted a photo of one of her textiles at sunset. The tapestries debuted at Missoni's September show, and Hayes has since become one of the brand's favorite collaborators. Her artwork is featured in the summer 2018 collection's ad campaign, which was photographed on sand dunes at the White Sands National Monument in New Mexico. Hayes's bright colors echo the bright, colorful clothing that is Missoni's trademark.
"There was no 'we need this palette' or anything," Hayes said about working with the brand, at an opening party last night. "The collaboration was just so intuitive."
Missoni curated the installation in partnership with A Palazzo Gallery in Brescia, Italy. If you see the pieces in person at Missoni's store, view them from the upstairs mezzanine — it's Hayes's favorite view.
"Dreams of Being" will be on display at the Missoni store at 1009 Madison Ave. in New York until June 30.