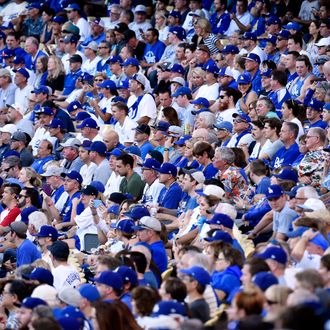 It's baseball time!
Photo: LG Patterson/MLB Photos via Getty Images
It's the most wonderful time of the year, at least for me: Thursday is Opening Day for the 2018 Major League Baseball season. Over the next few months, we'll have nearly 2,500 chances to settle into a game of America's favorite pastime, which has a lot of reckoning to do this year. This season, my wish list includes watching games while drinking beer with friends — as well as seeing serious changes within the sport when it comes to sexual harassment, abuse, race, and inequality. Below, four reasons I'm excited for Opening Day.
MLB might finally address sexual harassment and abuse.
When I bring up player harassment in baseball, people often tell me to relax and/or shut up. Often the rationale is that talking about one abuser means I would need to be upset about many, many teams and players — which I am, and I don't think it's terrific logic anyway. This year, my hope is that, propelled by the #MeToo moment, MLB will actually do something about this problem.
Historically, it's done very little to show it cares about women. When Pittsburgh Pirates infielder Jung Ho Kang was accused of sexual assault in 2016, the team didn't even postpone his bobblehead day. The player hadn't been convicted, but the law doesn't guarantee rights to … bobblehead days.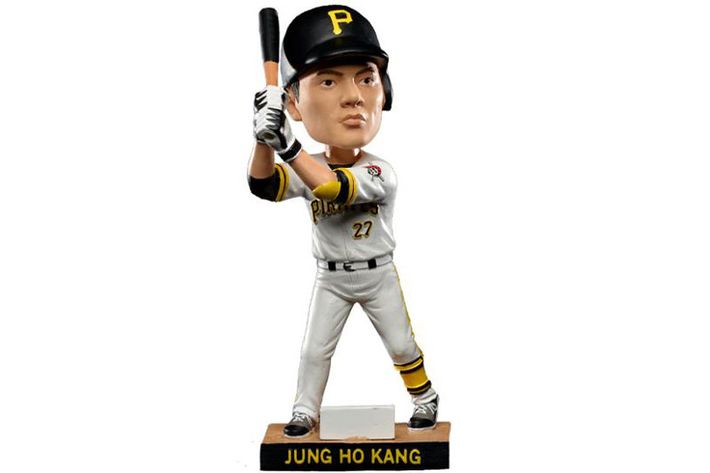 I'll never forget being at Yankee Stadium when Aroldis Chapman, accused abuser, debuted in the 2016 season and the Jumbotron displayed his face backdropped, poignantly, by angry flames licking at his jersey. He had been suspended for 30 games earlier in the season; still, that year, he was eventually the owner of a Chicago Cubs World Series ring. When a photo surfaced recently of a severely bruised batter who'd been hit by a Chapman pitch, it was hard not to think about the abuse allegations.
More recently, when the Detroit Tigers signed catcher Derek Norris, who'd been suspended related to abuse allegations, the team reportedly didn't bother to so much as speak to him about it.
There are (unfortunately) plenty more examples, but essentially: If a player is suspended for a short period of time after an assault allegation, then reinstated with glory, what does that say about MLB's stance on assault? And what stories aren't we hearing because accusers see the odds stacked against them?
Baseball is having more conversations about race and inequality.
I want more people having conversations like the ones journalists Jay Caspian Kang and Alvin Chang have inspired on baseball's "unbearable whiteness." I want an MLB player who can talk about justice and politics like LeBron does. (I don't see any player sending a "u bum" tweet anytime soon, but we can dream.) I want to focus on the exploitation of players — of Minor Leaguers, of those recruited from Latin America (and of many other groups). Some social progress is happening already, but it's long overdue: For instance, this is the final season the Cleveland baseball club will use its disgusting Chief Wahoo logo.
A pure love for the game of baseball.
And there's, you know, the games themselves. I'm excited to have the sense of peace I get at games back in my life. Late last summer, my grandfather, a baseball fan who taught his daughters to love the sport, passed away. When I got the call, I first called my mom, then my cousin. And then I looked to see if the Mets were in town. Sitting alone in the summer heat, methodically marking notes in my scorebook, drinking a beer: This is my therapy.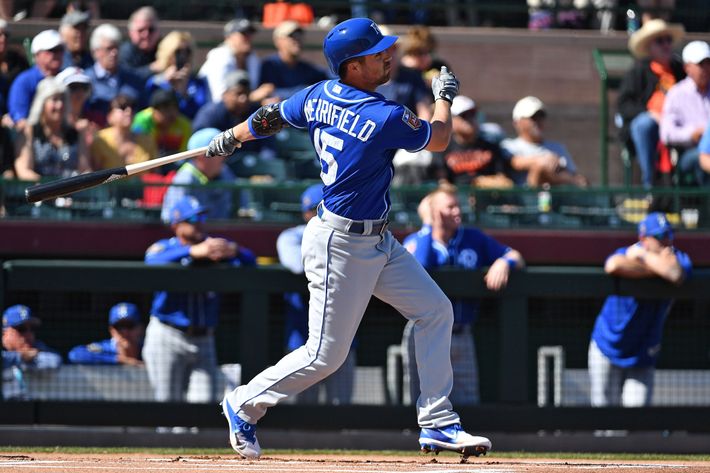 Going to games with friends is wonderful too! My mom was the person who taught me to love baseball — and thanks to my mom, my love for the sport doesn't come from someone (probably a man) whose love is based on statistics. She taught me how to score a game, yes, but she also taught me how fun games are supposed to be, and how emotional. It makes me sad when friends say they hate baseball. What's the problem with sitting in the sun, drinking beers with your friends, watching a game that can take you through the whole spectrum of human emotions? Don't let stat-heads bog you down.
Of course, all the specific athletes and teams I can't wait to see.
I grew up a fan of the Kansas City Royals, which means terrible seasons are oddly comforting to me and I'll be tracking their likely-terrible rebuilding season. But if I want to see someone win? I'll hop the train to Queens, and maybe, just maybe, the New York Mets will be able to help! And Wright Thompson's recent story for ESPN about the complicated interiority of Ichiro Yuzuki has me excited to watch the player this season as he returns to the Mariners.
It's next to impossible, even if you're a Yankee hater, to not be charmed by Aaron Judge, so I'm looking forward to watching him hit homers all season with Giancarlo Stanton. (And I'm hopeful there will be Mark McGwire–Sammy Sosa levels of fanfare. Oh, speaking of: Sosa was once accused of beating his wife.) I'll pay particular attention to the American League Central — not just because I'm a Royals fan (beat the White Sox today, guys!), but also because in April I'll see fellow division members Cleveland and the Minnesota Twins face off in MLB's first series in Puerto Rico since 2010. (I'll go even in light of assault allegations against the Twins' Miguel Sano.)
There's a lot to look forward to this year — and, I hope, a sea change for baseball culture. But let's not forget one of the best parts of the season: the hair.