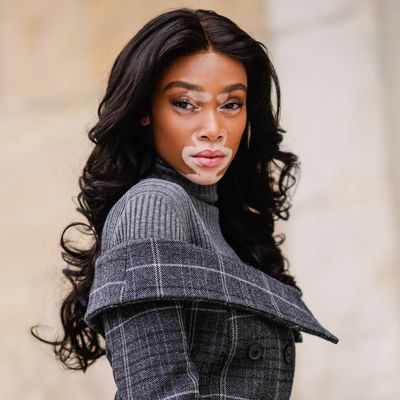 Winnie Harlow.
Photo: Edward Berthelot/Getty Images
Successful model Winnie Harlow called out the Evening Standard, a London newspaper, which printed one of her Instagrams and then labeled her a "Canadian vitiligo sufferer." Harlow has vitiligo, a condition that causes the skin to lose pigmentation, but was quick to explain that she's not being compromised by the disease.
She shared a picture of the newspaper on Instagram and captioned it, "I'm sick of every headline ending in 'vitiligo sufferer' or 'suffers from vitiligo.' Do you see me suffering? The only thing I'm suffering from are your headlines and the closed minds of humans who have one beauty standard locked into their minds when there are multiple standards of beauty!"
The America's Next Top Model alum who also appeared in Beyoncé's Lemonade previously said she's "very sick" of talking about her skin and that the emotional and physical effects of vitiligo aren't as deep as papers like the Evening Standard seem to make them.
The photo the Evening Standard printed was from Harlow's recent trip to Dubai where she fed baby tigers, went four wheeling, and went for a swim at the beach, which she said was "damn fine that day." Yeah, there's definitely no suffering on her end.