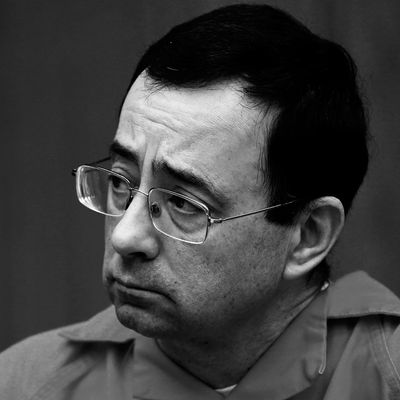 Larry Nassar.
Photo: Jeff Kowalsky/AFP/Getty Images
In January, former USA Gymnastics doctor and osteopathic physician at Michigan State University Larry Nassar was sentenced to up to 175 years in prison for sexually abusing over 140 women and girls. According to a new report from the Lansing State Journal, that same month, MSU paid a public-relations firm over $500,000 to monitor social-media activity surrounding Nassar's case, including tracking the accounts of his victims and their families.
Weber Shandwick, the New York–based firm hired by MSU, reportedly summarized news stories and kept track of how much attention certain social-media posts were getting online. They then emailed the information to MSU's outside attorneys working on the Nassar case, as well as then–MSU president Lou Anna Simon, the members of the board of trustees, and the university's in-house attorneys. Per the State Journal:
As the first week of Nassar's sentencing hearing wrapped up, the firm detailed to MSU communications staff some of the new development that were driving conversation, including victim impact statements by Raisman and fellow Olympic medalist Jordyn Wieber, the news that the Attorney General's Office would open an investigation into the university's handle of the Nassar matter and the MSU trustees "affirmation of support for President Simon, which was largely met by disbelief and anger on social media."
That the university would hire a PR firm, and that a PR firm would monitor social media's reaction to the case is not surprising. It makes sense that a multi-million-dollar business would invest in some image repair. However, the amount of time and money MSU spent tracking victims' statements during the trial stands in stark contrast to what little effort they apparently made to act on the allegations of Nassar's sexual misconduct, which date back to the '90s.
MSU is currently being sued by dozens of Nassar's former victims, and both the Department of Education and the Michigan attorney general's office have opened investigations into the university.