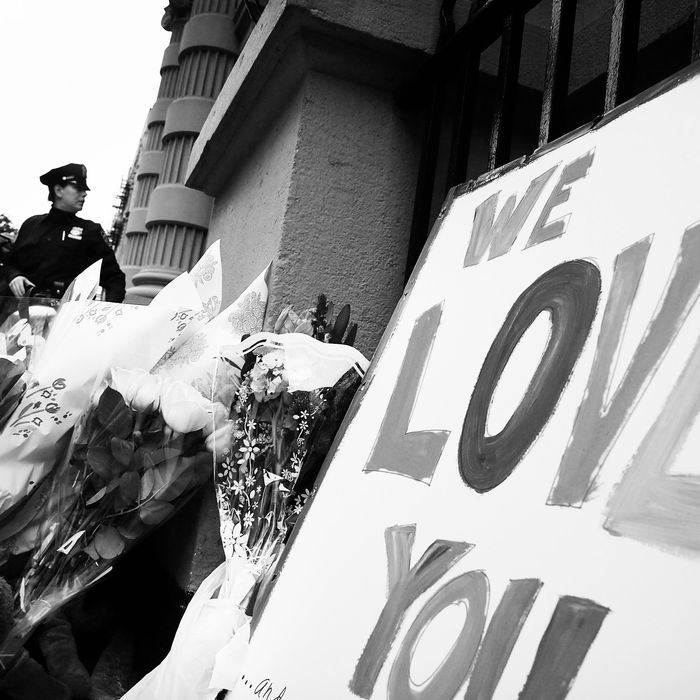 Flowers outside the Krims' apartment building in 2012.
Photo: Spencer Platt/Getty Images
"You're a piece of work!" Marina Krim shouted when she entered the courtroom and walked past Yoselyn Ortega, the nanny she once entrusted with her children's care. The nanny who never asked for a raise. The nanny who wore a uniform even though Krim hadn't told her to. The nanny who, in October 2012, stabbed to death two of Marina Krim's children: Lucia, age 6, and Leo, age 2.
"Oh my god," Krim said, with disgust, from the witness stand. "Oh my god. I'm sorry, I need a good look." Addressing Assistant District Attorney Stuart Silberg, she said, "My hands are tingling, Stu." She closed her eyes and held her temples. "I remember this from when I gave birth … My hands are tingling, my blood pressure is going up."
Five and a half years after the deaths of Lucia (known as Lulu) and Leo, the nanny who killed them with a kitchen knife is on trial. "If you don't get emotional during this trial, then maybe you need to check your pulse," Manhattan Supreme Court judge Gregory Carro said during jury selection, when several candidates balked. After spending yesterday in Judge Carro's courtroom, I can confirm his assessment. The jury was rapt but solemn. Several rows of Krim supporters sat in the back of the courtroom for the prosecution's opening statement— then stood up en masse and departed before the defense's. As they exited, a tall blonde woman whipped her head back and glared, pointedly, in the direction of Yoselyn Ortega, her three attorneys, and her translator. Marina had not asked friends to watch her testimony, she said on the stand. She didn't want to "break their hearts" all over again.
In 2012, the deaths of Lulu and Leo Krim gripped New York: For a city of working parents, Ortega's act was the ultimate nightmare. (It was also fodder for the literary thriller The Perfect Nanny, which arrived stateside in January, after a best-selling stint in France.) Now, Yoselyn Ortega is pleading not guilty by reason of mental disease or defect — she acknowledges she killed the children, but says that she was too sick to understand the consequences or morality of what she was doing. Ortega, who is 55, will likely spend the rest of her life locked up. The court will determine whether that's in a mental hospital or a prison.
During openings statements, the prosecution portrayed Ortega as cruel, calculating, and vengeful. Ortega "planned these murders and executed them at a time she knew she would not be interrupted," Assistant District Attorney Courtney Groves said. Ortega slit the children's throats so thoroughly, first responders thought they'd been decapitated. When Lucia fought back, the nanny stabbed her 20–30 times. Ortega then stacked the siblings' bodies in a bathtub and waited.
Marina Krim had planned to meet up with Ortega, Leo, and Lulu later that day, she explained. But when she and middle daughter Nessie arrived at Lulu's ballet class, the older girl wasn't there. A nervous Krim called and texted Ortega: "Where's Lulu," "Donde estas," "Where are you?" No reply. (Ortega's cell phone was never found.) When Krim got to the apartment, it was dark and quiet. She saw Lulu's ballet bag and Leo's stroller. Holding Nessie's hand, the mother went from room to room, searching. "It was awful. It was a total horror movie," Krim testified, her voice breaking.
As she reached the last room in the apartment — a bathroom — she noticed a crack of light under the door.
"I open the door and I'm just like — it took my breath away." She saw Lulu first. "I instantly know that she's dead because she's lying in the bathtub and her eyes are open." The children were covered in so much blood, ADA Groves said, that when an EMT picked Leo up, the medic was afraid the body would slip from his hands.
Then Krim noticed Ortega, "blood all over her and her eyes bugging out." They locked eyes, Krim said. And then the nanny started stabbing herself. Nessie screamed, and when Marina fled with the 4-year-old in her arms, she screamed, too: "My babysitter killed my kids!" When medics wheeled Lulu and Leo out of the building, she said, they fit on one stretcher.
During defense attorney Valerie Van Leer-Greenberg's opening statement, she described Ortega's childhood in the Dominican Republic's Santiago de los Caballeros — a far cry from the Krims' Upper West Side apartment in "La Rochelle, a landmark building," one block from Central Park and two blocks from the natural history museum. The defense wants to prove that Ortega's derangement is of the "devil made me do it" variety — quite literally. Van Leer-Greenberg said that Ortega suffered from hallucinations and psychotic episodes from a young age. She was "guarded" about her illness and symptoms, Van Leer-Greenberg says, because from 1962 to 1982 — the first 20 years of Ortega's life — mental health treatment was "worse than the illness." Instead of anti-psychotic medicine, Van Leer-Greenberg said, Ortega relied on prayer and religion — culminating in the moment when, after the murders, she told a psychiatrist she had felt the devil penetrate her body. She heard voices commanding her to kill.
The cultural and class differences that Van Leer-Greenberg pointed to are integral to the prosecution's case, too. When Ortega awoke from a medically induced coma two days after the crime, she was handcuffed the bed and could not speak — her self-inflicted wounds had severed her throat. But by mouthing words and pointing to an alphabet board, the prosecution says, she communicated with the police officer guarding her to offer complaints about her former employer. (During pretrial hearings, Van Leer-Greenberg argued against including these statements.) The prosecution does not need to prove motive, but the one they presented makes use of these grievances. Yoselyn Ortega, Groves said, resented her employer, and Groves suggested that her resentment may have involved envy. After moving her teenage son, Jesus, to New York from the Dominican Republic, Ortega was having problems with money. She had enrolled him in a private school she couldn't afford. She had incurred expenses moving to the Bronx, only to lose her apartment. She and Jesus had to move back in with her sister in Harlem.
In her testimony, Marina Krim said she tried to help by offering Yoselyn extra hours housecleaning. When the Krims needed help Yoselyn could not complete alone, they hired her family members: Yoselyn's sister Daisy accompanied the family to Westchester to babysit during Marina's sister's wedding. (That wedding was also the site of a dispute, Marina Krim says, over whether she would drive the Ortega sisters home, or whether they would take a bus.)
Over the course of Yoselyn's employment, the lives of the Ortega family and the Krim family became intertwined. When Yoselyn's son Jesus arrived in New York, Marina offered him a job dog-sitting. ("Did the defendant appreciate it?" asked Van Leer-Greenberg during cross examination. "She never said thank you," was Krim's curt reply.) An Ortega sister called Miladys once hosted the Krims in the Dominican Republic, before the family went to their resort. A fourth sister, Celia, had connected Yoselyn with the Krims in the first place, Marina testified: She was also a nanny, and her employers sent their daughter to the same bilingual preschool that Lulu attended. Celia approached Krim at a ballet class to ask if she had a nanny, Krim said. Krim replied that she did not.
At the time, the Krims were new to New York. Though Marina once worked as a kindergarten teacher, as a mother, she'd chosen to stay at home. She and her husband, Kevin Krim, had considered getting "an extra pair of hands" for child care, and when Marina asked a reference about Yoselyn, it was "all roses."
Some time after the killings, the family Celia worked for moved from the Upper West Side to Tribeca, the same neighborhood the Krims chose for their next home. The girl Celia cared for enrolled at the same public elementary school that Nessie attends. "Can you imagine my anxiety as I am walking out of school with Nessie and on a daily basis wondering if I am going to run into this woman?" Krim wrote in a 2014 email to friends. "She's a liar, too, by the way," Marina said when Celia's name came up in court. She also called Yoselyn a liar and a narcissist. Asked whether any of the Ortegas has ever reached out with concerns regarding Yoselyn, she replied, "No, because they're all cowards."
When she cross-examined Marina Krim, Van Leer-Greenberg seemed to lay groundwork for discussing the families' complicated relationship, and Yoselyn's grasp of reality where the Krims were concerned. Van Leer-Greenberg asked about the Krims' trip to the Dominican Republic — did they go to the beach? Did they drive? Did the Ortegas fear they would get lost? As the day wound down, Van Leer-Greenberg launched into yes-or-no questions about Marina's relationship with Yoselyn, each of which Marina flatly denied. Did Marina force Yoselyn to wait on her friends at a bridal shower? No. Yoselyn was present, but she was not a waiter. Did Marina force Yoselyn to take her to a Maná concert? No. Marina knew Yoselyn liked the band, so she issued the invitation. As the day wound down and spectators started sneaking out of the courtroom, Van Leer-Greenberg asked a question I recognized from early news reports on friends and neighbors who said they'd talked to Yoselyn about the Krims.
Had Marina ever given Yoselyn a leather jacket from Ann Taylor?
An exasperated Marina replied with force. Leaning into the microphone, she paused for effect between words: "No. Stop. Lying."