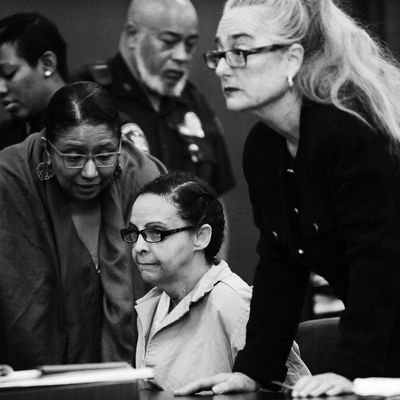 Defendant Yoselyn Ortega on Friday.
Photo: Susan Watts/NY Daily News via Getty Images
Marina Krim's seven-hour testimony in the murder trial of the nanny who killed her two children in October 2012 has ended. By the time she left the stand, she was hyperventilating, weeping, and crumpled over. And as a court officer escorted her out of the room, her sorrow turned to rage. "You're evil!" she screamed at defense attorney Valerie Van Leer-Greenberg. Krim was bent at the waist, putting her at eye level with the seated lawyer.
The officer pulled her toward the exit, about five yards away from defendant Yoselyn Ortega's seat, and Krim bent over and leaned as close as she could. "You're evil!" she bellowed. "You're evil and you like this. You love this. You're getting pleasure from this."
In the jury box, a young woman in a cowl-neck sweater hugged herself and blinked away tears.
Van Leer-Greenberg's cross-examination of Krim had contained a number of questions about what sounded like the nanny's grievances: Had the religious Ortega been forced to work on Sundays? Did she ever get a bonus? Did Ortega and Krim have a disagreement about bottled water? After playing in a park sandbox, did Kevin Krim and his kids make a big, sandy mess?
"I already talked about that," an openly exasperated Krim replied more than once, throwing up her hands and answering the questions through gritted teeth.
But it wasn't until ADA Stuart Silberg returned to ask clarifying questions about the witness's testimony that Krim broke down.
"When you're looking back at things like sand and water," he said of the banal domestic clashes that took place in the days before the killing, "are you trying to find something you could have missed?"
"I don't understand your question," Krim said, breaking into tears. "I don't understand your question right now, I'm sorry about this. I don't understand. I know it's a really simple question — I don't understand it. I don't know what she was fishing for —"
During her opening statement, Assistant District Attorney Courtney Groves reminded the jurors that the prosecution does not need to prove motive in this case. Yoselyn Ortega concedes that she committed this crime — the only question left is whether she was criminally insane at the time. Still, Groves said, "most of us are asking" why Ortega would slaughter the children she had spent two years caring for. With Friday's testimony, Krim gave the court a glimpse of her own struggle with that question.
"You said there was a story you wanted to tell," ADA Silberg said to Marina Krim during the redirect. In the year before she lost two children to violent crime, Krim explained, she'd lost an unborn child to miscarriage. During her sister's wedding, on Labor Day weekend in 2012, Krim had been pregnant with a fourth child.
"I don't remember exactly when, but I did end up telling my kids," she said. "I never told my parents. But I did tell the defendant, because I figured Lulu would be so happy, she wouldn't be able to keep it in. So I told her … This was some time in September or October, I don't remember exact dates. And we were all really excited. I mean, for Lulu, this was her dream come true, to be the oldest sister of another baby. She was, like, the most maternal little girl in the whole wide world.
"Kevin and I went to like my 12-week ultrasound — and the nurse came and started doing the ultrasound — and then it was really strange, I was like getting weird vibes —" Just then a lawyer, began to interject. With her eyes squeezed closed, Krim shouted into the microphone: "Let me tell my story, please!" The room went silent. Eyes still closed, she continued: "And the the doctor came in, and they said I'd had a miscarriage. The baby was dead. And so — and so — I was really sad. But, you know, I also feel fortunate that I had three beautiful, beautiful kids. Beautiful kids who I really loved. So I still felt really lucky.
"So I went home and I instantly told Lulu, because I knew she would understand. She had a few tears in her eyes, which broke my heart a million times. But I told her, you know, I'll have another one. We're going to keep trying.
"And then I told the defendant — oh god, I forgot — when I told the defendant that I was pregnant, she did one of her overly emotional, exaggerated emotional things. She gave me this giant hug and she was saying, 'Oh my god, I'm so happy, I love you, I love you, oh my god, I love you, I love you.'" Ortega was prone to emotional outbursts, Krim said, like the time the family had surprised Ortega with airline tickets to the Dominican Republic after she'd mentioned not being able to afford going home.
"And then when I told [the defendant] I had a miscarried? She didn't say anything. She didn't give me a hug. She just — she gave me no emotion at all. She actually looked mad at me — mad that I had a miscarriage. And I was like — I was like — oh my god — I had a weird [realization] like: She's a narcissist. It's all about money." For the last time, she screamed into the microphone: "IT'S ALL ABOUT MONEY."
This sort of repeated, sustained outburst is not common, I gather. "It's worse than TV," a courtroom sketch artist told me during a break-time chat in the hall. After the witness and jury were escorted out, Van Leer-Greenberg reiterated her objections to what she characterized as a "very improper" redirect examination. "Due to the cacophony in the courtroom," Van Leer-Greenberg said she feared she was not heard. "I heard it," Judge Carro replied. "And I denied it." Yes, the lawyer acknowledged, but she wanted to make sure they were on the record.