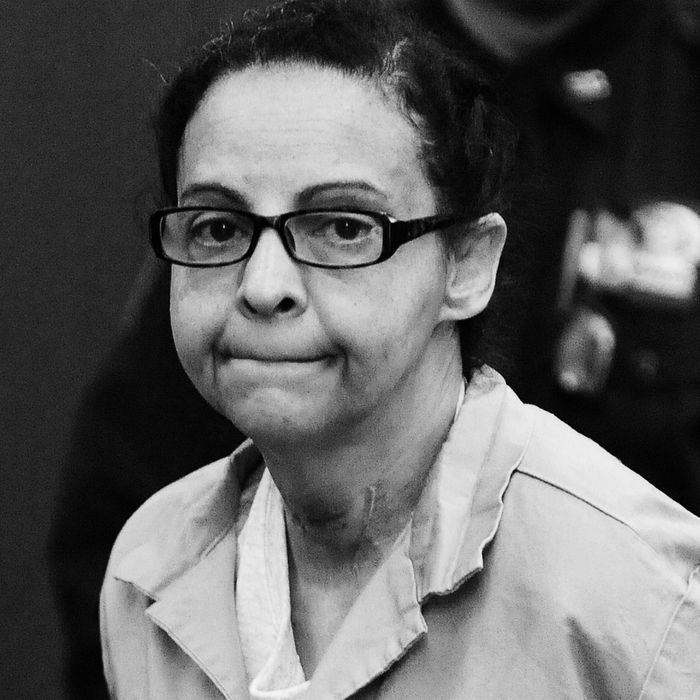 Yoselyn Ortega in 2013.
Photo: Susan Watts/NY Daily News via Getty Images
Dr. Thomas Caffrey has been a licensed psychologist since 1977. He has five degrees, including a Ph.D. in psychology and a postdoctoral degree in forensic psychology, and has served as president of the New York State Psychological Association's Forensic Division. He once led an NYSPA effort to draft legislation to make it easier for health-care professionals to report dangerous patients in the state of New York.
Caffrey met with Yoselyn Ortega three days before she stabbed to death two children, then turned a knife on herself. Her complaints were mostly about anxiety, he testified on Thursday at Ortega's trial for the murders of Lucia and Leo Krim, ages 6 and 2. Caffrey said he'd had no reason to believe the nanny was dangerous.
When Ortega entered court today, she was the most animated I have seen her. (It's a low bar, though. She spends most of her time with her hands folded in lap, staring straight forward.) Every morning, before the jury arrives, a court officer retrieves a handcuffed Ortega from a room adjacent to the courtroom. Seated next to her lawyers, Ortega will then be unshackled. Before the jury arrives, she converses with her lawyers — and on the day of Caffrey's testimony, she gesticulated emphatically during the conversation. She pursed her lips and nodded; she rubbed her forehead; she tapped the table. During Caffrey's testimony, she was more subdued, occasionally shaking her head a bit, but mostly staring straight forward in silence, as she's tended to do while court is in session.
Three days before Lucia's and Leo's deaths, an "insistent" Ortega called Caffrey and requested an appointment. She wanted to see him that very day. Caffrey didn't have any available appointments, but "her insistence moved [him] to say" that she could come during his lunch hour.
For 40 minutes, they spoke only in Spanish. Caffrey is from Milwaukee, he explained, but his wife is from South America. During his testimony, he referred several times to specific Spanish words he'd used with Ortega, sometimes pausing to spell them out for the court stenographer. The patient had come to him for help with her anxiety, he testified. She complained about a racing heart. She was under a great deal of financial pressure — she'd just moved her son from the Dominican Republic to New York, and then moved with him into a new apartment in the Bronx, but was soon asked to leave. Caffrey said that Ortega told him she'd sent her son to live with her "most responsible" sister after the boy's father left both him and her. But now she was fighting with at least one sister. She was anxious and unhappy.
Caffrey diagnosed Ortega with generalized anxiety and dysthymia — a mild form of depression — and recommended more therapeutic sessions. At the bottom of the patient report he kept in her file, he listed her progress in the session as "fair." Her prognosis was "good." She was "frank" and "spoke from the heart," Caffrey said, which he considered a good starting point for therapy.
In four decades of practicing psychology, Dr. Caffrey has more than once alerted authorities or family members about patients he believed could pose an "imminent threat" to themselves or others. Ortega was not one of those patients.
During cross examination, defense lawyer Valerie Van Leer-Greenberg went through a long list of questions that Dr. Caffrey had failed to ask. Had he directly asked Ortega if she was delusional? (No.) Had he asked how many sisters she had? (No.) Did he ask specific questions about her job? (No.) Ortega did most of the talking at their session, Caffrey explained. During their 40 minutes together, he mostly listened. "In retrospect, there's lots of things I should have asked," he said near the end of his testimony. He was in the witness booth longer than the time he'd spent speaking to Ortega.