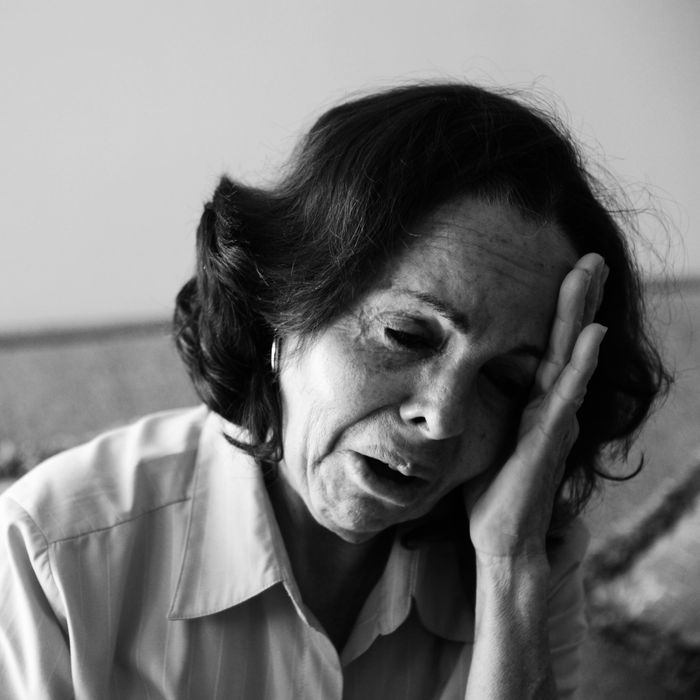 Miladys Garcia, Yoselyn Ortega's sister, pictured after the murders in 2012.
Photo: David Handschuh/NY Daily News via Getty Images
Halfway through a tense cross-examination, Assistant District Attorney Stuart Silberg turned to the court's gallery. "I'm sorry," he stage-whispered to Kevin Krim, who was sitting with his arms crossed. Several jurors followed Silberg's gaze to Krim, the father who was flying back from California when nanny Yoselyn Ortega stabbed two of his children to death. Later, when Ortega's sister Miladys Garcia seemed to blame Krim and his wife Marina for failing to stop Ortega — "Why didn't those parents realize and take her out themselves?" — those jurors would turn to Krim again.
"It was not her, it was a demon," Miladys said of a conversation she had with Yoselyn Ortega in the hours before the crime. "I know her voice," she testified. "It was like I was talking to a demon. She had become something evil." Ortega is pleading not guilty by reason of insanity for the 2012 murders of 6-year-old Lucia and 2-year-old Leo. On Monday, lawyers questioned Ortega's sisters Miladys Garcia and Delci Mercedes Ortega-Garcia. (Their father's surname is Ortega; their mother's was Garcia.) Both sisters testified in Spanish, with assistance from the court interpreters who have been here since day one, translating quietly into Yoselyn Ortega's ear. Now the interpreters are joining witnesses on the stand. This has posed some problems in a trial where the lawyers habitually shout over one another; one exasperated interpreter reminded the court that he could only interpret one voice at a time, and that he needs to be able to hear it.
Yoselyn called Miladys around noon on the day of the murders, the elder sister testified. Ortega was grinding her teeth, but claimed to be mashing a plantain. Baring her own teeth, Miladys demonstrated, rubbing a clenched jaw back and forth. "It wasn't Josie, it was somebody else on the phone," Miladys said. She believed her sister was "unraveling," and it was a deterioration that she'd seen before.
Miladys is 11 years older than Yoselyn Ortega and Delci three; when the Krims traveled with their nanny to the Dominican Republic, they stayed in Miladys's home. The eldest sister testified first, recounting a painful family history of mental illness. She had relatives who have committed suicide by gun and by hanging, she said. She had an aunt who retreated from the world, locking herself alone in her room until she died.
Yoselyn seemed to suffer from mental illness, too, both sisters said. They confirmed a depressive episode in 1978, the year one of their other sisters died. (This episode also came up in a psychiatrist's testimony.) Several years prior to the killings, when Yoselyn was living in the Dominican Republic from 2008 to 2009, she'd told Miladys that she'd heard voices, the eldest sister testified. "A man is black, he wants to separate the family," Miladys said her sister said. "And she would hear that voice saying 'Go back,' it wouldn't let her leave the house." Last week, when defense attorney Valerie Van Leer-Greenberg questioned Rutgers professor Dr. Susan Caplan — who studies mental health conditions in Latin America, including the Dominican Republic — the lawyer asked the doctor which color Dominicans associate with the devil: black.
In the days before the crime, Yoselyn "would cry a lot" and invoke the image of a black man: "It was the same thing, a black man," Miladys said. "The black man wants to separate us, the black man wants to separate two families."
During cross-examination, ADA Stuart Silberg asked Miladys why, if her sister had sounded as though she had a demon in her, Miladys had not contacted anyone for help. He hammered at the seeming contradiction — how could Yoselyn simultaneously be so insane as to seem demonically possessed, but still sane enough that her sister didn't raise an alarm? Silberg suggested Miladys was lying for her sister. But watching Mildays's testimony, I wondered if, in looking back on the unthinkable, the killer's sister had developed an astonishing capacity for cognitive dissonance. Miladys was passionately ambivalent about that phone call: She swore that Yoselyn had seemed possessed, and also that it hadn't seemed like a big deal. She'd asked Yoselyn to put her friend Francisca on the phone (she was at Francisca's house during the plantain-mashing phone-call) but Yoselyn refused and hung up. So Miladys continued her day, she testified, while she and another sister in the Dominican Republic waited for Yoselyn to call them back. She didn't think anything bad would happen. She didn't alert Stateside family members because "they were working. Everyone works," Miladys said. She'd encouraged Yoselyn to "go to a psychologist, go to a priest," but since she wasn't around Yoselyn in person, all she had was phone calls to go on. "Why didn't those parents realize and take her out themselves? They were seeing it," Miladys said of the Krims, triggering audible gasps in the courtroom. When jurors and spectators spun their heads to look at Kevin Krim, the father shut his eyes.
Delci Mercedes Ortega-Garcia was only partway through her testimony when Judge Gregory Carro announced that court would adjourn for the end of the day. "Tell your employer you have been ordered to come back," Carro instructed her. "I missed work today," Delci said, through an interpreter. She cleans stores for a living. But on Tuesday, she'll be back in court.
When Kevin Krim left the courtroom, three photographers followed him to the elevator, snapping pictures. When the Ortega-Garcias left with Yoselyn's attorneys, they covered their faces.