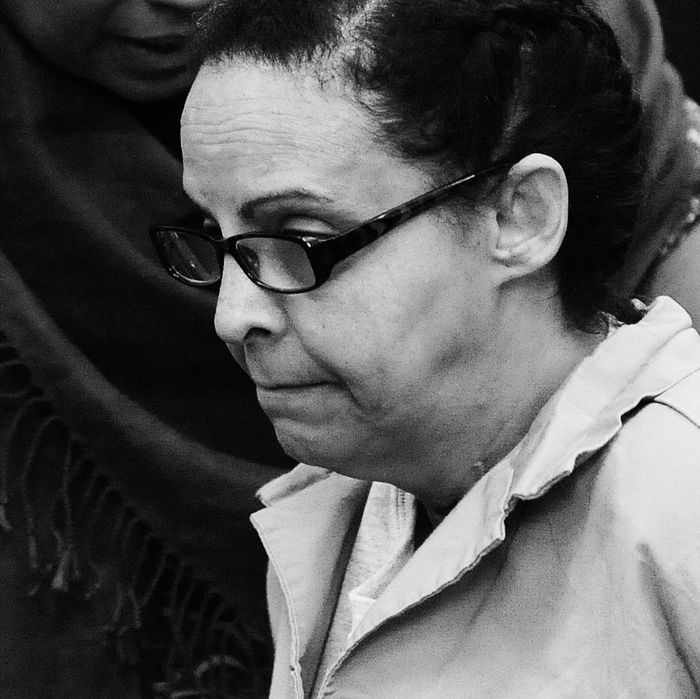 Ortega in court in 2013
Photo: Susan Watts/NY Daily News via Getty Images
Did Yoselyn Ortega really believe she heard the voice of the Devil? This has become a central question in her trial.
Prosecutors trying Ortega for the murders of 2-year-old Leo and 6-year-old Lucia Krim insist that the nanny concocted her insanity defense while convalescing in the weeks after the crime. (After stabbing the children to death, she turned a knife on herself.) Their evidence includes signs of premeditation, statements Ortega made from her hospital bed two days after the murders — which included workplace grievances, resentment, and no mention of the Devil — and testimony from a therapist who met with Ortega three days before the crime.
This week, the defense presented testimony from Dr. Karen Rosenbaum, a forensic psychiatrist who believes Ortega's psychosis is real. Rosenbaum's testimony will span at least two days (she returns to the stand tomorrow) and includes analysis from the approximately 20 hours Rosenbaum spent with Ortega after the crime. Rosenbaum also interviewed more than a dozen people who knew Ortega, in an undertaking that spanned several years and two countries. (The doctor added a three-hour detour to a personal vacation to interview Ortega relations in the Dominican Republic.) If the defense convinces the jury that Ortega was too sick to understand the consequences or morality of her actions, she will be sent to a psychiatric hospital instead of a prison.
Insanity defenses are rare, and rarely succeed. But defense lawyer Valerie Van Leer-Greenberg is going for broke, offering testimony from Rosenbaum and nearly everyone she interviewed — and a Rutgers professor who studies mental-health stigma in the Dominican Republic. Religion, cultural differences, and psychosomatic phenomena are all at play as Ortega's defense argues that the killer was criminally insane.
Ortega told Rosenbaum she was possessed by the Devil the third time they met, nearly two months after the crime. "It required prompting," Rosenbaum admits. "I asked if she felt cursed. She said 'maybe,' and said she felt the Devil possessed her." Ortega was reluctant to quote the Devil directly. Asked what he said, she replied, "Ugly things, bad things, I don't remember." In later sessions, Ortega said the Devil commanded her to kill others and herself. He issued banal commands, too, like the time she went to the supermarket, and every time she picked up an item, the Devil would command her to put it back. She left the market empty-handed, Rosenbaum said Ortega told her. Two months later, after Ortega had been taking anti-psychotic medication for several months, she told Rosenbaum she heard the voices less frequently and at lower volumes. Ortega's successful treatment is one reason Rosenbaum thinks she isn't faking psychosis: "Malingering doesn't usually respond to medication," the doctor explained. "That she was able to get better with medication was a good sign that this was mental illness."
Rosenbaum also said she believes Ortega because her story seemed consistent with accounts from friends and family members who spoke to the doctor in the months — and years — after the crime. When those people have testified in court, ADAs Stuart Silberg and Courtney Grove generally ripped them to shreds for their inconsistency. Most were interviewed by police and other authorities immediately after the crime, but none mentioned anything like psychosis before meeting Valerie Van Leer-Greenberg and Dr. Karen Rosenbaum. Through Spanish-English interpreters, several family members said nobody else had directly asked the kinds of questions Rosenbaum asked, and they hadn't thought (or wanted) to offer more detail. The prosecution hammered on a seeming contradiction: How could Yoselyn have been sick enough to suggest demonic possession, as one sister claimed, yet not sick enough for them to tell anyone or do anything to stop her? As an incredulous ADA Groves put it while cross-examining a neighbor (who interacted with Yoselyn on the day of the crime, but withheld information about apparent psychosis during early interviews): "The woman who murdered two children told you that very day that she had been seeing black shadows who followed her, who called out her name, but you were so preoccupied with other things, you didn't tell [right away]?" On several occasions, prosecutors have directly accused witnesses of lying — or having distorted hindsight.
Rosenbaum's diagnosis accommodates this reluctance. She mentioned a family friend who advised Yoselyn to see a "doctor," not a psychiatrist, because she didn't want to embarrass anyone. (She'd hoped the regular doctor would send Ortega to someone who specialized in psychiatry.) Ortega had long lived in denial of her mental illness, with varying levels of success, Rosenbaum said. She believed that physical ailments like headaches, eczema, and a fainting spell suggested "somatization" — converting psychiatric symptoms into physical ones. Even Ortega's complaints about soap in the Krims' home injuring her hands could be a symptom, the doctor said. "It happens with people who aren't very psychiatrically aware, who don't have insight into mental illness, or who are actively trying to hide their mental illness symptoms and put it into something more socially acceptable."
Rosenbaum's theory about shame- and ignorance-based somatization seems to dovetail on earlier testimony from Rutgers researcher Dr. Susan Caplan, who described the Dominican Republic as a nation that has long struggled to acknowledge mental health. Judge Gregory Carro accepted Caplan's testimony over strenuous objection from ADA Stuart Silberg, who accused the defense of stereotyping. Since Caplan never interviewed Ortega, Silberg argued, she could only offer generalizations that might not apply to a defendant who has lived more years in the U.S. than in the D.R.
The therapist who met Ortega three days before the crime, Dr. Thomas Caffrey, testified three weeks ago for the prosecution. Ortega found Caffrey on a list of psychologists covered by her medical insurance, but coincidentally enough, he is also one of New York's foremost experts on when, and how, to report dangerous patients to the authorities. He saw no signs of psychosis or imminent danger in Ortega — just a stressed-out woman whom he diagnosed with anxiety and mild depression.
As for why Ortega didn't mention the voices to Dr. Caffrey? "She said, 'I didn't tell Dr. Caffrey because he didn't ask,'" Rosenbaum testified. Summarizing what the nanny said next, her voice dropped low: "[She] was going to tell him everything at the follow-up appointment that she made with him. But she never got there."