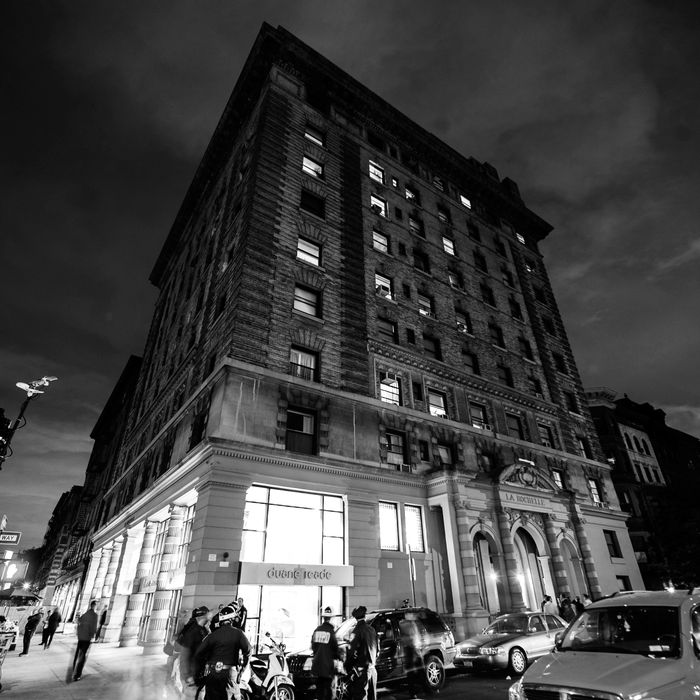 Outside the Krim family's apartment building on the night of the murders.
Photo: James Keivom/NY Daily News via Getty Images
Kevin Krim was flying back from California on the day that his family's nanny, Yoselyn Ortega, killed his 2-year-old son Leo and 6-year-old daughter Lucia with a kitchen knife. When Krim's plane landed and he turned his phone back on, a cavalcade of voice and text messages sent him into an immediate panic. The flight crew asked everyone to remain seated when the plane arrived at the gate; the NYPD needed one passenger to exit first.
From the messages on his phone, Krim said today in court, he gathered that two of his children were dead — but he didn't know which two, or how they'd died, or where the rest of his family was. He remembers collapsing in front of the airplane, and being lifted to his feet by two police officers holding his arms. Krim can't remember whether he walked out of John F. Kennedy airport or if the police officers carried him. But he remembers looking at his phone and seeing a voicemail from his wife, Marina. He remembers hitting play.
"And I just heard this background noise of screaming, and I crumbled again."
On Tuesday, the prosecution rested their case against Ortega, who is pleading insanity on murder charges for both children. Three weeks after opening with the children's mother, Marina, the prosecution closed with their father, whose grief-stricken testimony drove at least half of the jury — and a packed courtroom — to tears.
When Marina Krim testified at their former nanny's trial for their children's murders, her testimony was emotionally raw: There were angry outbursts, wails of agony, and a showdown that saw the mother screaming, "You're evil!" at her children's killer. Today, Kevin Krim presented a different kind of grief. He sat very still during his testimony, speaking quietly and clearly into the microphone, wiping his eyes every few minutes.
Kevin was the one who encouraged Marina to hire a nanny, he said. Back when the couple lived in San Francisco, the birth of their second daughter, Nessie, posed challenges: Born with hip dysplasia, Nessie underwent surgery in the first weeks of her life. For some time thereafter, she was confined in a chest-to-ankle body cast while recovering. That was the first time Kevin — who worked full-time while Marina stayed home with the kids — suggested hiring help. Kevin was, by then, traveling frequently to New York for his new job, and the couple was preparing to move.
Arriving in New York, the family moved to the Upper West Side. "We had two kids and a dog. We wanted to be around families and we wanted good public schools," Kevin testified. Soon Marina became pregnant with a third child, Leo. ("His was the only kid's name I ever got to pick," Kevin said at one point, laughing through tears during a lighter moment in his testimony.) Again, Kevin encouraged Marina to consider hiring part-time help, using the same phrase his wife used to explain the choice: "an extra set of hands."
The father went deeper than the mother did on how the couple found— and why they hired — Ortega. "I've hired hundreds of people over 18 years of work," he testified. He researched advice on screening childcare providers on the internet, then compiled a list of questions with Marina. His wife did the interview; she forwarded Kevin the recommendation she'd received by email, from what appeared to be a music executive's professional email account. Though Marina took the lead in interacting with Ortega, Kevin was laid off from his job early in the nanny's employment, so he saw her frequently. "I've managed a lot of people," the media executive reflected. "I want to make sure they're happy, and content, and effective, and productive."
The father stressed that they never cut their nanny's hours and always found a task for her so she'd never be working fewer than 25 hours a week, as specified at the start of her employment. When the Krims were out of town and didn't need Ortega, they'd ask around for work from their friends, particularly once they heard Ortega's finances were tight. "I wanted to make sure there was no miscommunication — that we weren't pawning her off on people, that we weren't getting rid of her," Krim testified. It seemed like a win-win situation: The nanny needed money, and when the Krims didn't have a reason to give it to her, they could refer her to friends who could. (These arrangements would come up in the nanny's complaints about Marina.) Ortega never asked the Krims for more money, Kevin said. And she never seemed mentally ill.
"There's a history of mental illness in your family, is there not?" assistant district attorney Stuart Silberg asked Kevin. "Yes," he replied; his mother's sister was schizophrenic, as was her son, Kevin's cousin. "I spent time with both of them as a child, and it was vivid, disturbing, and unsettling. I remember them very, very well," he said, recalling a couple specific memories.
"Did you see anything during the time of the defendant's employment that made you think she was mentally ill?" asked Silberg. Over defense lawyer Valerie Van Leer-Greenberg's objections, Kevin said, "Absolutely not. Never. And I know what I know."
Arriving at St. Luke's Roosevelt Hospital, Kevin saw a flock of news reporters. He was taken to a private room, where a person in scrubs told him that Lucia and Leo were dead. "That was the first time I actually knew which two of my three kids were dead," he said through tears on the witness stand. "I was crying. And I was flailing, because I didn't want people touching me. I was asking what happened, what happened, what happened. No one seemed to know a lot of details. But they said it was the babysitter who had killed them." Asked to identify that babysitter, Kevin sat straight up and clenched his jaw. He extended his arm and pointed straight at Ortega, who did not visibly react.
When hospital officials brought Kevin to Marina, he said, she was hysterical. "We're not going to get divorced over this, we're not going to get divorced over this, they say everyone gets divorced over this, but we're not going to get divorced over this," he remembered her saying. He couldn't remember if he said anything; he just remembered holding her and crying.
Eventually, he asked to see his children: "I wanted to say good-bye to my kids." A doctor told them they'd cleaned the bodies as best they could. (Which would have been a difficult task, according to Monday's testimony from the medical examiner; in the final minutes of her life, 6-year-old Lucia struggled mightily. Slashes on her arms and twisted stabs to the front and back of her torso suggest she fought the nanny and twisted to escape. Two-year-old Leo had no defensive wounds; he either didn't see it coming, or was too small to respond.) Kevin and Marina decided to go together to see Leo and Lucia one last time.
The children were in a private room, lying next to one another, white sheets covering their bodies and tucked up to their chins. "I got down on my knees and said, 'I'm sorry.' I said, 'I love you,'" said Kevin. "And I kissed them. I said good-bye.
"They looked beautiful and strange," he continued. "They were the wrong color. They didn't have any blood left in them, so they were bluish. But they still had this perfect skin, and their long eyelashes, and their eyes were closed." Both children had sandy-brown hair, Kevin Krim said. But on that day — even after the hospital had bathed them — their hair was auburn, tinted from the bloodbath in which they'd died.