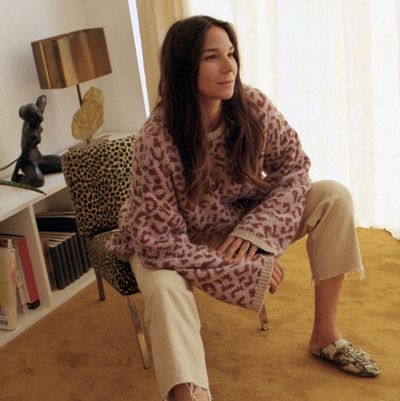 Sandra Sandor.
Photo: Courtesy of Nanushka
While Hungary isn't known as a global fashion hub, Sandra Sandor of Nanushka grew up knowing that she wanted to go into the industry. Her mother was a childrenswear designer, and she was always surrounded by clothes. Sandor moved to London to study at the London College of Fashion, and launched her own label immediately after graduation — no internships, no apprenticing, just straight entrepreneurialism.
The form-follows-function principle of the Bauhaus movement has been a central influence on Sandor's designs since she created her first collection (which was also her college thesis) in 2005. "I had four core fundamentals derived from Bauhaus," Sandor says of her debut effort. "Function, comfort, tradition, and playfulness … To try to view [the clothes] a little bit out of the box and take them out from their original context."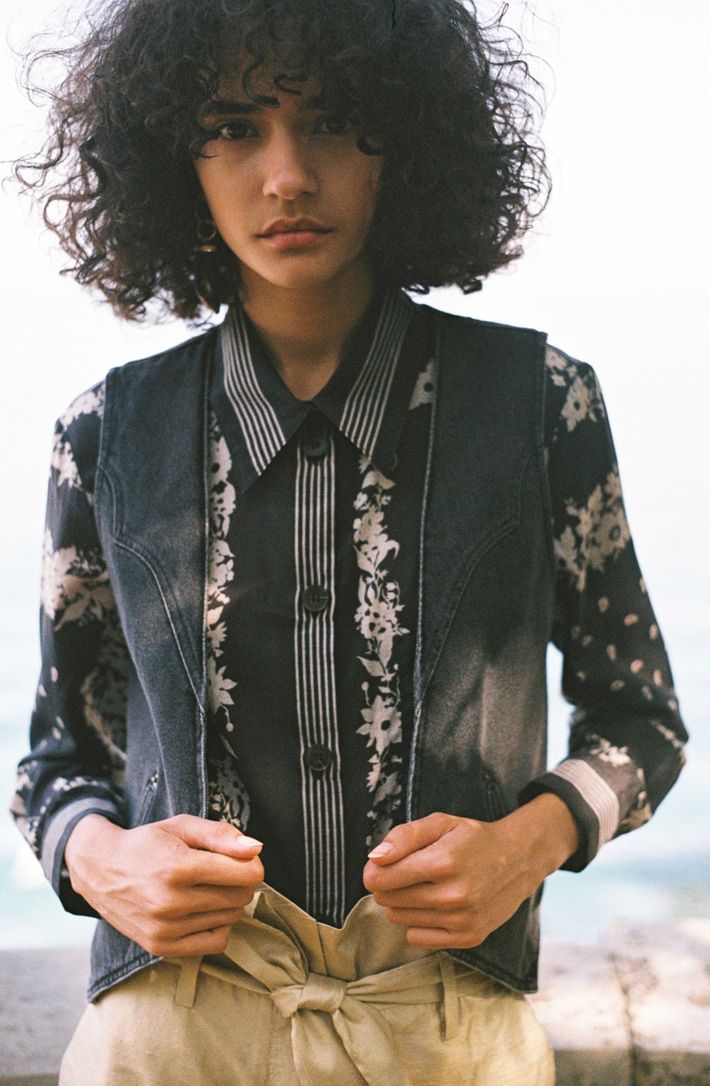 Nanushka's offerings (Spring 2018 drops this week) include sumptuous knit sweaters, artfully draped coats, and easy-to-wear dresses with tie-waist details. A pair of striped linen pants features ample pockets, and a deconstructed take on a short-sleeved blouse is destined for wardrobe stapledom. Most fabrics are washable and non-creasing, straps are adjustable, and the aforementioned pockets abound.
This past year, after securing global distribution with Net-a-Porter, Nanushka quickly became a favorite of the fashion cognoscenti, including Caroline de Maigret and Gigi Hadid. It's not hard to see why: The clothes are easy to wear. Sandor's recipe for success is elevating classics with a twist: a tie-waist here or an unexpected fabric there. (A vegan-leather puffer coat she did last fall, for example, was a runaway street-style hit — she's committed to using vegan leather wherever possible.)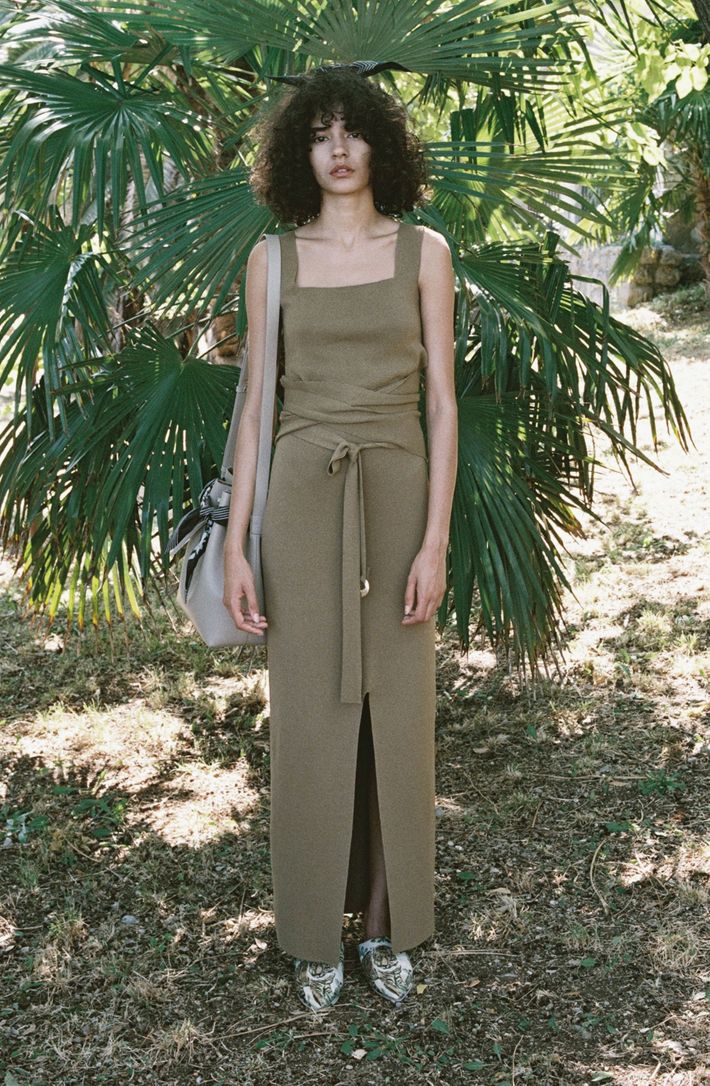 For her Spring 2018 collection, Sandor says she was "trying to find the mutual language between far Eastern culture and wild Western Americana … I always choose a clashing culture theme." (She continued the trope for Fall 2018, with a dash of '90s Berlin thrown in.) It's a penchant she chalks up to her roots in Hungary, at the intersection of East and West. "Both the Turkish and the German cultures have very big impacts on us and then also, during the Communism years, we were also affected by the Russian culture," she says. "Even to this day, if you walk on the streets of Budapest, you can see a Turkish bath on the right side, then a Brutalist building on the left. And yet, you're surrounded by classical Parisian style at the same time."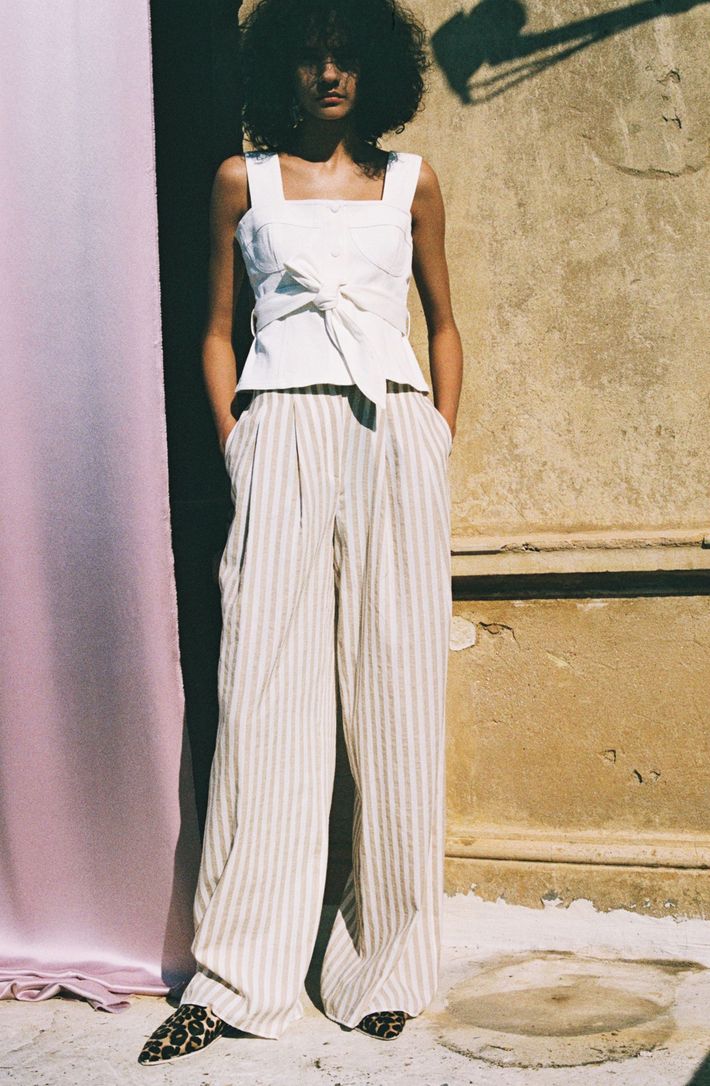 It's a mash-up that, in Sandor's hands, translates to a lovely, cosmopolitan assortment of smart pieces in luxurious fabrics, though she's managed to keep the line at a contemporary price point. (A satin tie-waist midi dress, for example, retails on Net-a-Porter for $575; an elongated denim riff on the biker jacket goes for $625.)