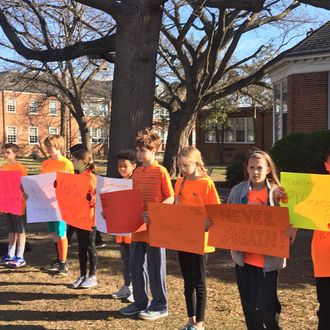 Young students in Virginia during National School Walkout Day.
Photo: Lois Beckett/The Guardian
On Wednesday — the one-month anniversary of the horrific shooting at Marjory Stoneman Douglas High School in Parkland, Florida — thousands of students across the U.S. participated in National School Walkout Day to protest gun violence. Students left their elementary, middle, or high school classrooms — and some even walked out of college and medical school lectures — to stand up for school safety and honor the 17 victims killed during the massacre. From young kids wearing orange in solidarity to moving chants from teen advocates, here are some of the most powerful moments from the protests.
Marjory Stoneman Douglas High School students led a walkout in Parkland, Florida:
Some students in Brooklyn held up signs with a picture of Emma González, a Stoneman Douglas senior who became a powerful gun-control advocate after the shooting:
These elementary school students in Virginia — clad in orange — laid completely still on the ground in silence (after preparing reporters to cover the event):
Students chanted "Bullshit" on camera:
Many students in D.C. walked out of class — all the way to the White House:
Students in Brooklyn chanted "Guns in school is not cool":
In Georgia, students poured out of their high school, even though their administrator said they'd face consequences for walking out:
Students across the country made powerful signs demanding gun-control and safer schools:
Some students spent their walkout registering themselves and others to vote — so that they can have a say in gun-control laws moving forward — and also wrote to their representatives to demand they make school safety a priority: