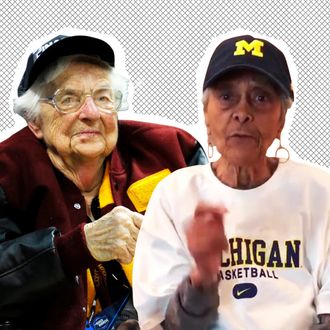 Sister Jean and Mary Belle Hicks.
Photo: Getty Images
Throughout this year's NCAA tournament, 98-year-old Sister Jean Dolores Schmidt — a nun and Loyola-Chicago's team chaplain — has emerged as the real star of March Madness. (The Nunnaissance is real.) But now she has some serious competition in the field of old lady sports enthusiasts: 100-year-old Mary Belle Hicks.
Hicks is the grandmother of Jalen Rose, a former NBA player who played for Michigan in the early '90s. In advance of Saturday night's Final Four game, where Michigan and Loyala will face off, she sent a message to Sister Jean via Instagram.
"Sister Jean, it's been a good ride — but it's over Saturday," she says. "Go Blue! 100."
Related, please replace all sports broadcasters with women over 90.