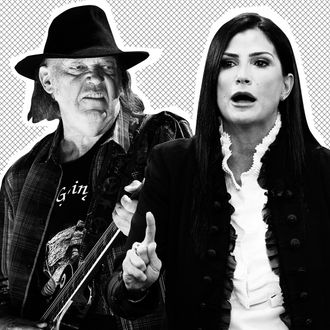 Neil Young, Dana Loesch.
Photo: Getty Images
Neil Young is a legendary singer-songwriter beloved by dads and people with ears and hearts everywhere. Dana Loesch is a former mommy blogger–turned infamous gun-rights advocate and NRA spokesperson who was recently mercilessly dragged by teens after the Stoneman Douglas school shooting. And here's where the twain meet.
When the Daily Beast interviewed Young, they brought up Loesch's constant criticism of the musician — she's tweeted about hating him numerous times, and said he sounds like a "dying cow fart." Turns out the notoriously cranky Young thought that was hilarious.
"I'm glad I got under her skin," he said. He also responded to the dying cow fart by asking "Why doesn't she just shoot me?"
"Although Trump likes my music. He'd come to all my shows," Young also shared, because we cannot have it all.