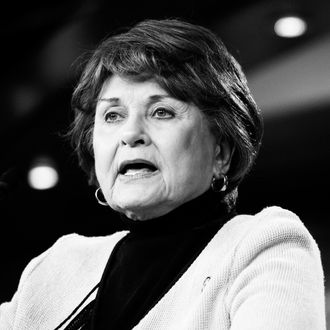 Representative Louise Slaughter.
Photo: Bill Clark/CQ-Roll Call,Inc.
New York congresswoman Louise Slaughter died Friday after sustaining an injury from a fall last week. She was 88 and the oldest sitting member of Congress.
A liberal Democrat who long advocated for women's rights, Slaughter was born in Kentucky in 1929 and went on to earn degrees in microbiology and public health. Her political career began in the Monroe County legislature in upstate New York, and she was elected to Congress in 1986.
During her tenure Slaughter notably co-authored 1994's Violence Against Women Act, a federal law meant to help survivors of domestic violence, sexual assault, and stalking. A few years earlier, she marched to the Senate with six other congresswomen to demand that Clarence Thomas's Supreme Court confirmation be delayed so that Anita Hill's sexual harassment allegations could be heard.
Per the Washington Post, she was also once a blues and jazz singer. House Minority Leader Nancy Pelosi remembered her colleague by saying, "Her strong example inspired countless young women to know their power, and seek their rightful place at the head of the decision-making table."