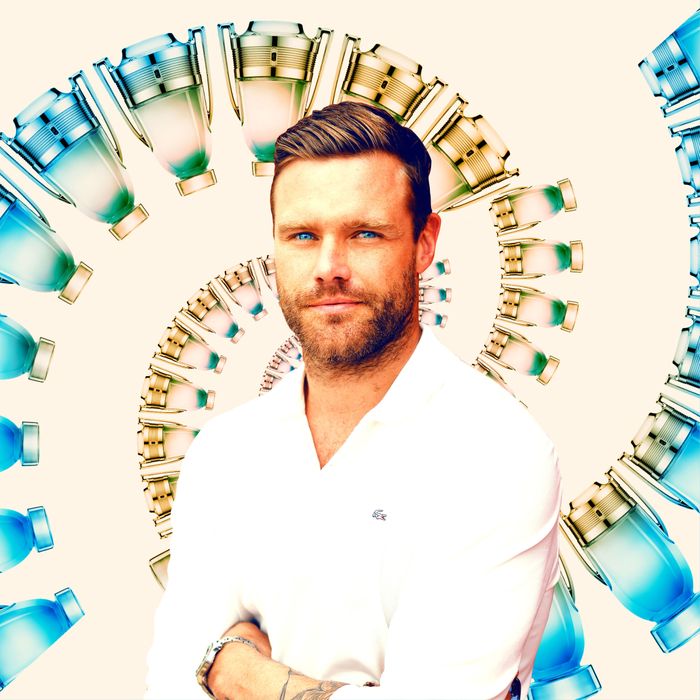 Nick Youngquest.
Photo-Illustration: Stevie Remsberg
Call it the Proust effect: Memories are best triggered by smells. Scientific studies confirm that out of all the senses, smells and fragrance offer the best recall. Our new feature, Scent Memories, will ask its subjects to talk about the scents they associate with different emotions and thoughts. Former Aussie rugby player and current face of Paco Rabanne perfumes Nick Youngquest spoke with the Cut about the brand's new perfume, Invictus Aqua. It's a masculine cologne with a bottle shaped like a trophy to match its alpha-male name. The cologne, with notes of grapefruit, marine accord, and ambergris, is available now. Read on to learn about the smell of Youngquest's dog, Bark Obama, and why he associates seaweed with friendship.

My first scent memory: I'm from Sydney, and growing up on the beach, my biggest scent memory is the ocean: The sand and the salty coastline. I feel really comfortable in that still and I try to find that in New York, which sometimes is a little bit different. Rockaway Beach doesn't smell quite as good as Cronulla in Sydney, and I mean that in the nicest way possible.
Love smells like: My dog, Bark Obama. I think he loves me the most out of anyone. Let's not get too political, but I'm sure he smells better than the current president. There's something about him, when he's lying next to you or licking your face in the morning, it evokes that kind of memory of love. But now that I think about it, I hope someone loves me more than my dog.
Happiness smells like: Being home in Australia, the scent of my mum's house. I don't know how to describe it, but she has all these candles and it's very clean.
Heartbreak and loss smells like: Being an ex-athlete, the smell of a sweaty, disgusting locker room after a defeat is memorable. Where everyone is sitting there just like, "Ugh, we lost. Again." It smells like 17 guys who all played a game and aren't smelling the best.
Regret smells like: The smell of myself when I forget to put deodorant on. Everyone has these days, right?
Sunday morning smells like:  I try to do my washing on Fridays, so I associate cleanliness with Sunday morning. You've only slept in the sheets once. Lying around, nice sheets, Netflix, chill, whatever.
If I could have one scent on my hands forever: I have a strong affiliation with lavender. I practice a lot of yoga and meditation, and use lavender essential oils. It's very soothing.
Friendship smells like: Seaweed. It doesn't smell good when it's in the ocean, but when you're surfing with your buddies, you throw seaweed at them. I miss that smell. There's not a lot here. I spent a lot of my young adulthood surfing.
A pleasant surprise smells like: I never thought I'd be working with a brand, so maybe the smell of the Paco Rabanne office in Paris. There are so many smells over there. Coming from a sporting background, it was really different.
Monday morning smells like: Long, strong coffee. Espresso, double black. I have it every day, but Monday morning especially. I wake up, I have my coffee, and I run.
Success smells like: The smell of the locker room again. When you win, it's a smell I associate with success as well. I finished my career in Britain, and there's a big difference between how the Brits take care of themselves versus American and Australian. I love all my British friends.
I smell like: I don't know, you'd have to ask my girlfriend. [Editor's Note: His girlfriend, model Luma Grothe, says he smells, "like a scent you keep want to keep smelling. It's very fresh."]
This interview has been edited and condensed.
If you buy something through our links, New York may earn an affiliate commission.