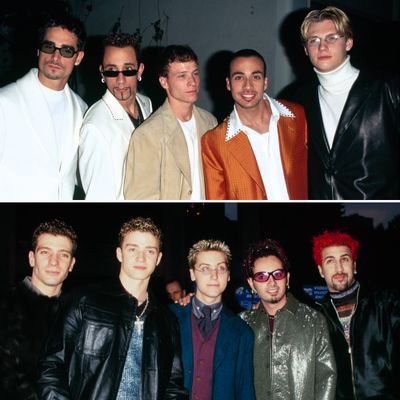 Top: Backstreet Boys; Bottom: 'N Sync
Photo: The LIFE Picture Collection/Getty Images
History has been shaped by powerful feuds: Cain vs. Abel, Nancy vs. Tonya, Donald Trump vs. exercise. And now, the truth behind one of the fiercest rivalries of all time has finally been revealed: 'N Sync and the Backstreet Boys basically hated each other in the late '90s because two of them once dated the same girl.
To celebrate the 20th anniversary of the release of 'N Sync's debut album (entitled *NSYNC), former member Chris Kirkpatrick (the one with the hair) told Billboard what inspired the very-similar all-male pop bands's epic feud. "I wanted to punch A.J. [McLean's] lights out for a little while," Kirkpatrick recalled, causing every single person in the world to immediately envision the two pop groups in dancing fisticuffs like in West Side Story.
He continued, "I was dating a girl, I broke up with her and he started dating her. And I guess he was talking smack to her about me, so I confronted him on it and wanted to kick his ass." Talking smack, can you even believe it???
But somehow (divine intervention maybe), the two groups were able to set their differences aside. Kirkpatrick told Billboard:
"I don't know how it got resolved — I saw him out one night and said I wanted to kill him, but I said, 'Let's get a beer.' I think boy band fights are in the same realm as hockey fights. You fight when you're on TV, but then when you're not, you get a beer together. Now we're really good friends."
However, according to other 'N Sync member Joey Fatone, the feud wasn't always the ass-kicking drama Kirkpatrick described. Instead, it was more "friendly" than not (sure). "To us, there wasn't a competition. We just thought we needed to be the best," Fatone said. "To them, there was, because they came out and we came out, and they're like, 'Man, we have to be better than them!'"
Now you know.