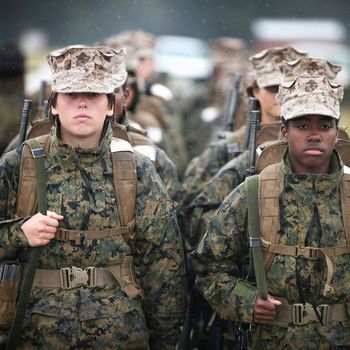 Female Marines.
Photo: Scott Olson/Getty Images
Military men have been circulating a Dropbox folder containing hundreds of explicit photos of female U.S. service members, Vice News reports. Called "Hoes Hoin'," the folder reportedly contains photos of women — many of whom are identifiable — from all military branches.
Revenge porn has long been pervasive in the U.S. military, and despite the legal actions taken to combat it since the major nude-photo scandal in early 2017, the problem is ongoing. According to Vice News, "Hoes Hoin'" contains 267 images, with three subfolders for specific women. The majority of the photos reportedly feature women wearing military clothing, while some even show the women's faces or name tags.
Per Vice News:
Some of the photos are selfies, others are clearly taken by another person. Some show women performing sexual acts. A few are of service members fully clothed, in apparent attempt to shame or discredit them. Finally, some photos are crude collages showing a fully clothed service member in uniform on one side and a nude photo of the same woman on the other.
Within the folder, some of the photos are categorized as "legacy," which signifies that they were already shared across other online groups related to Marines United, the Facebook group that caused a major revenge-porn scandal last year. In March 2017, news broke that the Defense Department was investigating that group for sharing hundreds — and possibly thousands — of nude photos of female service members. In April 2017, the official laws governing U.S. Marine and Navy personnel were updated to ban revenge porn.
While Facebook has since shut down the exclusively male, closed group in which the Dropbox link first appeared two weeks ago — called "Blame Marines United (Non-Butthurt Edition)" — anyone with a link would've been able to download the photos.
Read the full report here.
Update, 12:30 p.m.: A Dropbox spokesperson reached out to the Cut to notify that the link has been removed.
"This link has been taken down and banned so it cannot be recirculated on Dropbox," the spokesperson said. "As always, we investigate reports of content that violate our Acceptable Use Policy. If we find a violation, we take down the content and, when appropriate, take other measures such as banning the content and/or reporting to law enforcement."