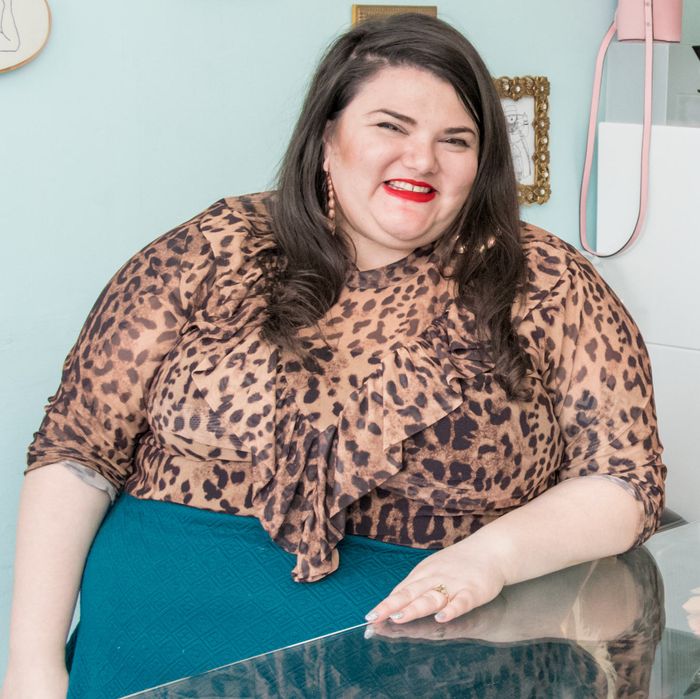 Photo: Courtesy of NYC Department of Small Business Services
Alexis Krase is one of 40 New York–based entrepreneurs who have raised some $280,000 in capital using "WE Fund: Crowd," a city initiative designed to champion women business owners. Any woman in New York can apply for a zero-interest loan of up to $10,000 on this Kiva crowdfunding page, and the city will fund the first 10 percent of the money she needs — lending with no fees, no interest, and no minimum credit score. Mayor Bill de Blasio has said the $3 million program aims to reach 500 women over the next three years.
Krase, who owns the Williamsburg plus-size boutique Plus Bklyn, has been cast as a model example of the program's benefits. Hoping to design her own clothing line, she struggled to find a loan through a bank. But on "We Fund: Crowd," she raised $10,000 in about two weeks, which allowed her to meet with a local patternmaker and begin designing a collection of colorful print dresses and basics in sizes up to 5x. "This money is everything. It is funding my dreams," she told the Cut. "I'm hoping it will catapult our small business to a place where we can potentially produce clothing at a national scale."
She explained that "We Fund: Crowd" is a straightforward, comfortable way to approach investors. Kiva gives each entrepreneur a first-round dollar amount to reach on a private platform for family and friends. Once that benchmark is passed, her lending platform goes public and anyone can donate. The city will contribute up to $1,000.
So far, 80 percent of the city's loans have gone to women of color and 35 percent to immigrants. "We thought we'd do five loans a month, maybe. But since we launched in November, we're doing 10 to 15 a month," said Alicia Glen, New York City's deputy mayor for housing and economic development. She said the program was designed to give women more control over the need to ask for money, given research that shows women are more reluctant than men to ask for even small loans to get their ideas off the ground. The crowdfunding platform bypasses this discomfort, connecting entrepreneurs with strangers who come to Kiva already wanting to invest in businesses.
Anyone in New York or elsewhere can invest, too: Loan a "We Fund: Crowd" entrepreneur at least $25, and after she repays you, you can take it back or lend it to another woman's business plan.
Check out more WE NYC opportunities for women business owners, including classes and mentoring, here.