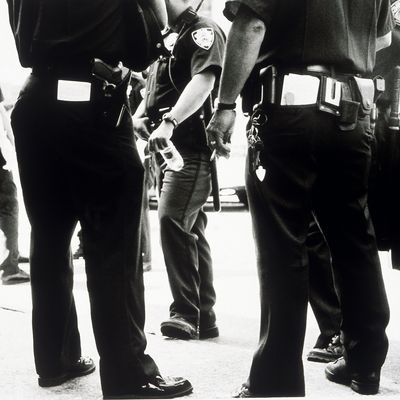 Photo: David Troncoso/Getty Images
A disturbing new report from a leading law-enforcement agency reveals that the New York City Police Department has knowingly neglected its division that investigates sexual assault.
The 165-page-long report, conducted by the city's Department of Investigation, focuses on the NYPD's Special Victims Division, which is tasked with investigating cases involving sexual assault. To compile the report, investigators spoke to current and former SVD staff, sex-crime prosecutors, and victim advocates, among others.
According to the DOI's findings, the SVD has been understaffed since at least 2010, when NYPD's own Sex Crimes Working Group asked the NYPD to hire more sex-crimes investigators to take on the increasing workloads. The NYPD reportedly did not take any actions, and in the past near-decade, the SVD has struggled.
"In March 2018, NYPD's homicide squads had 101 detectives with 282 homicides in 2017; during the same time period, SVD's adult sex crime units had only 67 detectives despite its 2017 caseload of 5,661," the report reads.
One major consequence of this negligence is that the NYPD has reportedly prioritized so-called "stranger rapes" and ignored "acquaintance rape." The public got insight into this approach in 2017 when a NYPD Captain infamously downplayed his precinct's major increase in reported assaults by claiming the majority of the reported sexual assaults weren't "total abomination rapes where strangers are being dragged off the streets."
The authors of the report offer up a bulleted list of actions the NYPD should take to remedy their egregious shortcomings. For example: The NYPD should "require all adult sex crimes be investigated and/or enhanced by SVD detectives — including 'domestic rape' and 'acquaintance rape,'" as well as "increase in-house training opportunities for adult sex crimes detectives and detectives-in-training."
While the DOI's findings were bleak, DOI Commissioner Mark G. Peters hopes the report will be "a critical roadmap for the future" of the NYPD.
"Victims of sexual assault deserve justice, with the full weight of law enforcement by their side," Peters says in the report. "The neglect and understaffing of NYPD's Special Victims Division are serious and deeply troubling and the failure to treat acquaintance rape as an equal priority is unacceptable. While DOI's report details the shortcomings currently hindering SVD, it provides a critical roadmap for the future. NYPD must give the Special Victims Division the resources and personnel it needs to carry out its important mission."
Update: In a statement provided to the Cut, J. Peter Donald, the Assistant Commissioner of the NYPD, denied the report's findings and claimed that its authors did not speak to multiple key people.
"This document is an investigation in name only; it is inaccurate, misleading and does material damage to the relationships of trust the NYPD Special Victims Division (SVD) has worked hard to develop with survivors of sex crimes," he said. "Any objective, thorough and fact-based examination should contain accurate descriptions of policy, procedure, practices and staff resources."