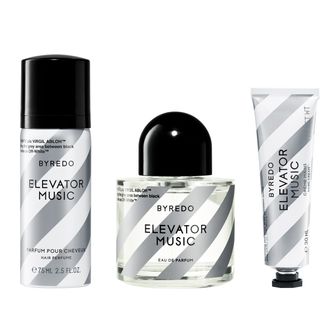 Photo: © Bohman & Sjöstrand Ab
For its first foray into the beauty realm, street-style label Off-White is working with fragrance brand Byredo to channel the soothing and hypnotic soundscapes of elevators. The collaboration was announced during Off-White's Paris fall 2018 presentation, which included an elevator-music soundtrack and an installation called "The Elevator" by Carsten Höller that was supposed to call to mind the phenomenon of ignoring people when you enter an elevator.
For the collection, Off-White's designer Virgil Abloh and Byredo founder Ben Gorham fashioned bottles of perfume, hair mist, and a tube of hand cream. Abloh told Vogue, "Since I was a teenager, I've been inspired by fragrance. It wasn't just what a fragrance smelled like, but the halo around it." Byredo describes the collaboration as a "notion" defined by Abloh and Gorham, and an exploration of the relationship between luxury and human perception. In the same way that elevator music is meant to be heard, but not listened to, the halo around this fragrance is subtle and soft, to be passively noticed. It's a woodsy floral with notes of midnight violet, bamboo, musk, and ambrette.
The packaging is equally minimalist and full of Off-White's playful character. The crisp gray stripes that cross over the bottles call to mind the trance-inducing effect that elevators tend to have, which almost fits Off-White and Byredo's goal of defining "emotion with the least amount of effects."
The collaboration will be available May 17 at Barneys and Byredo.