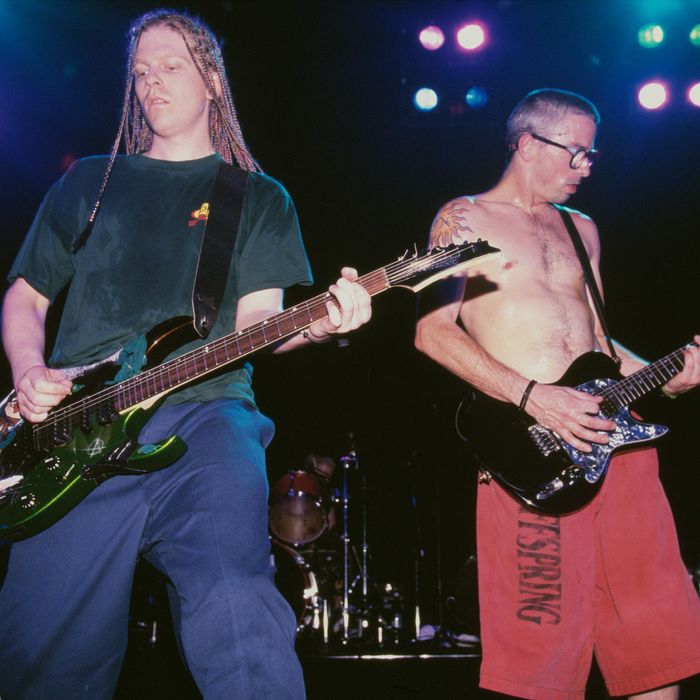 The Offspring.
Photo: Matt Green/Redferns
Brace yourself: We have a doozy of a story for you that truly has everything, including a former drummer of punk group the Offspring (yes, the "Pretty Fly (For a White Guy)" band), a medical-malpractice suit, California, jurors, life-saving CPR, and a mistrial.
James Lilja, a founding member of the Offspring who left the band 30 years ago, is an obstetrician-gynecologist residing in the San Francisco Bay Area. He apparently had been "dying" to get into medical school when he was in the band (back in the '80s), and walked away from his music career as soon as he got accepted. SF Gate reports that he now runs a private practice specializing treating in cancerous and precancerous female-reproductive issues. (And just for reference, Lilja's not the only former rocker who has made a career change — Blink-182's Tom DeLonge is now an alien researcher.)
Anyway, as Law360 reports, Lilja is currently going through a medical-malpractice trial in California, in a suit filed by a patient and her husband, Stephanie and John Sargiotto, who allege the doctor was negligent when treated her. And on Tuesday, things got a bit … hectic … in the courthouse when a prospective juror nearly died.
During a morning break in the Oakland trial, a prospective juror collapsed, hit his head, and became unconscious while waiting to be called back in for the juror-selection process. Although someone nearby called 911, another person went into the courtroom to ask Lilja and his nurse assistant for help with the medical emergency.
The prospective juror had no pulse and wasn't breathing, according to Law360, so Lilja and the nurse gave the man CPR, and also used a defibrillator to administer shocks twice until the paramedics arrived. Apparently he had a pulse again by the time he was being rolled out of the building on a stretcher.
Because Lilja essentially saved the life of a prospective juror, the judge declared a mistrial, saying that the rest of the jury was probably impacted by the day's events and that the bias towards him would be "incurable." When Lilja heard the news he said, "No good deed goes unpunished." Indeed!