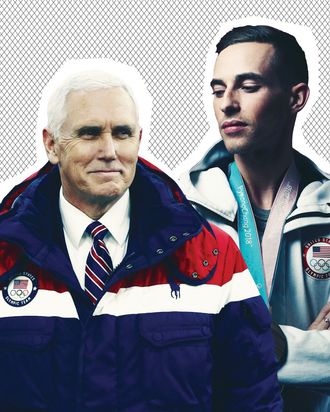 Mike Pence and Adam Rippon.
Photo: Getty Images
Shortly before the 2018 Olympics, Mike Pence tweeted at figure skater Adam Rippon — the first openly gay athlete to make the U.S. winter team — after reports that Rippon refused to meet the vice-president. The Pence/Rippon drama attracted a lot of attention, and even Donald Trump Jr. felt the need to weigh in on the ordeal. But in a new interview, the Olympian said he'd be down to meet Pence now.
Speaking with CNN, Rippon explained that Pence's request to meet came after an article about his thoughts on the vice-president leading the U.S. delegation. That happened to be only two weeks before the Olympics, an event Rippon had waited for his entire life. "I'm pretty sure Mike Pence didn't know who I was an hour before that article came out," Rippon told CNN. "And that he wanted to meet with me after, I thought, that's fantastic that this article got his attention. But it wasn't the right time."
But when asked how Rippon felt about possibly meeting the husband-of-mother now, he replied, "Now is the right time." He said that although the Olympics are over, he still has a platform from the recent games and wants to use that to give a voice to those who are affected by the anti-gay legislation Mike Pence has pushed. Rippon continued:
"He tweeted at me and he said I want you to know that I'm for you and I'm for all the Olympians, which I think that's great, but I don't believe it because when I go home, are you still for me? Are you still for other LGBTQ americans? Are you still for that trans man or woman that wants to join the military? Are you still for that lesbian couple that wants to get married? That's where I feel like the tweet is almost disingenuous."
Rippon added that he felt the conversation with Pence wouldn't be for him; instead, it would be for everyone whose lives have been changed by Pence, since these are all human-rights issues. "I'm making it clear that I'd really like to have this conversation," he said.