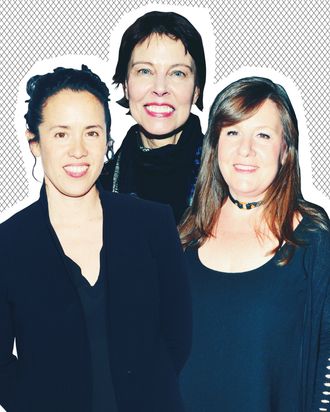 New York City artists Sarah Sze, Joanne Pousette-Dart, and Lisa Yuskavage.
Photo: Getty Images/Patrick McMullan
David Zwirner Books hosted a panel discussion last night that felt like a master class in dinner-party conversations: If you find yourself clinking cocktail glasses with an artist, what should you ask them?
"Talking about what you make has to be one of the worst things in the world because it's just a big soup," painter Joanna Pousette-Dart, one of three New York City–based artists who participated in the panel, said. Painter Lisa Yuskavage, a panelist along with Sarah Sze, shared one thought-provoking question to ask an artist (and one to avoid).
"Someone always asks, 'When do you know when a painting is finished?' I guess it's an interesting question … [but] it's just like, 'I ran out of stuff to do.' The question I can ruminate on is, 'What's your favorite part of the process?' I know my least favorite is the beginning — either when you're starting a new body of work, or you just get to your studio and it's a new day." (Another idea: read our edifying interview with a Paris museum director on women in the art world here.)
The panel was hosted as a book launch for Tell Me Something Good, a collection of 60 artist interviews that have appeared in the New York-based art magazine The Brooklyn Rail. For 20 years, the magazine's interviews have challenged artists to talk about their work and facilitate new conversations with non-artists.
Brooklyn Rail writer Jarrett Earnest and editor Lucas Zwirner moderated the conversation, surrounded by guests in the Soho art gallery CIMA, a one-floor gallery filled with modern Italian art on Broome Street. Tell Me Something Good is out now from David Zwirner Books.