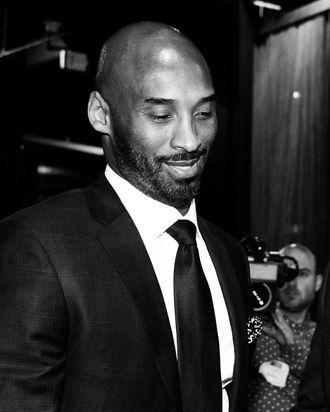 Kobe Bryant.
Photo: Andrew D. Bernstein/NBAE/Getty Images
More than 16,000 people have signed an online petition to revoke Kobe Bryant's Oscar nomination, created in late January, after the NBA star was accused of raping a teenage girl in 2003.
Fifteen years before the world's current reckoning with sexual misconduct and the consequential downfall of many powerful men, Bryant allegedly raped a 19-year-old hotel employee in Colorado — an accusation that resurfaced after the NBA star was nominated for Best Animated Short, which he won at the Oscars 2018 ceremony tonight.
"The Oscars almost avoided nominating sexual predators for awards," the petition reads. "Woody Allen and James Franco didn't get anything. But Kobe Bryant, who was charged with a horrific sexual assault, was nominated."
In 2003, the hotel employee filed a police affidavit accusing Bryant of sexual assault. At first, Bryant denied the encounter altogether; later, he told police that he and the alleged victim had consensual sex. Just before the trial, the woman decided not to testify and the charges were dropped, after which she filed a civil suit and settled out of court with Bryant for an unknown amount.
The new petition was created by Kelsey Bourgeois, who recently explained to Broadly why she was compelled to launch the campaign to rescind Bryant's nomination.
"He settled with his accuser. So in my mind, that doesn't really make him innocent — it just makes him able to pay off someone who he wronged," she said. "I, of course, couldn't possibly know what actually happened. But we have to believe women, especially when they accuse men who are typically 'above the law,' so to speak."
The petition is fewer than 800 signatures short of its 17,000-supporters goal, which Bourgeois intends to send to the Academy of Motion Picture Arts and Sciences if that goal is reached.