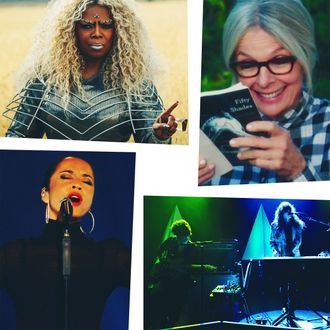 What's Good is a weekly column collecting TV, music, movies, and miscellaneous cultural ephemera worthy of your time. Why? Because we like it. Check back Fridays at lunchtime for your guide to what is good.
Alright, to be honest, A Wrinkle in Time is not a "great" movie: it's a little too soulless and glossy-Disney in its packaging to do justice to the simple magic of the book. That's okay, though! I'm sure 12-year-olds all over will fall in love with Storm Reid's Meg and the kid who plays Calvin (Levi Miller), and while it is, again, not great, we can all be on the right side of history and applaud Ava DuVernay becoming the first black woman to helm a $100-million dollar movie.
The message of this version of A Wrinkle in Time is weirdly self-helpy. There's an emphasis on self-care (Zach Galifianakis basically plays a yoga instructor at Burning Man) and new age-y empowerment. I'm not mad about it, though, because the movie allowed Oprah to be the conduit for all these heavy-handed messages — which means it's basically just an Oprah self-help seminar, and a good one at that. Oprah is perfectly cast as Oprah. For that, Ava, I thank you. It's clear you and this film are just as obsessed with Opes as the rest of us.
Oprah is already larger than life, so, naturally, when she appears on screen in this movie as Mrs. Which, the oldest and wisest Mrs. in the universe (like they were gonna give Reese that part), she is 30 feet tall. Everyone else is normal sized, but Oprah is literally 30 feet tall and floating in the sky. Her diamond ring is the same size as Mindy Kaling — again, pretty true to life. When she appears at that scale, and with that blonde hair those silver lips and those Swarovski crystal eyebrows, I gasped. And laughed. A gaugh!
So, Oprah is appropriately huge for most of the movie, and her role includes her roaming around this other part of the universe like she's onstage at an arena tour. She's a fantastic orator, duh, and often it sounds like Ava just let her write her own lines. Good move to get out of the way there, and just let her do her thing. While the advice she gives is probably not exactly what Madeleine L'Engle had in mind, Oprah fans are about to get their shit rocked by this Oprah seminar.
Oprah wisely teaches us about the light and the dark in the universe, and that we have to do to harness the light. There's a big emphasis on the importance of loving ourselves, but also looking deeply at our past trauma and using it to become our full, beautiful, flawed selves. She teaches us this through mantras like "Love without love is like a tree without blossoms or fruit." Or "A seer is a motivator of insight." Or "Be a Warrior, can you?" Or — my favorite — "A wound is where the light comes in." What does that even mean? Not sure, but like all of Oprah's mantras, I will recite it in the mirror and then put it on a coffee mug, tote bag, and hoodie.
Another Good Part of a Meh Movie
Sade wrote future Oscar-winning song "Flower of the Universe" for the A Wrinkle in Time soundtrack (which also sort of bumps, even without Sade), and to be honest I was a little nervous: what if it was bad! What if it was a throwaway nothing song that just played in the background as Oprah soared, or something? It's Sade's first song in seven years! It could have gone a lot of ways.
Never fear: just as A Wrinkle in Time proved it could use Oprah to full Oprah-ness, it also uses Sade to maximum Sade potential, by using showcasing "Flower of the Universe" as it deserves to be showcased.
The song itself is beautiful and so sultry, but, like all the best Sade, perfectly restrained. Sade always gives just enough — just enough emotion, enough of her voice, just enough production — and thankfully, the movie meets her where she lives. It doesn't use the song in some big, overstimulating scene; it plays during the sparse, dramatic moment when Chris Pine and Storm Reid are having an emotional reunion in what looks like a set for "Hotline Bling." Perfection.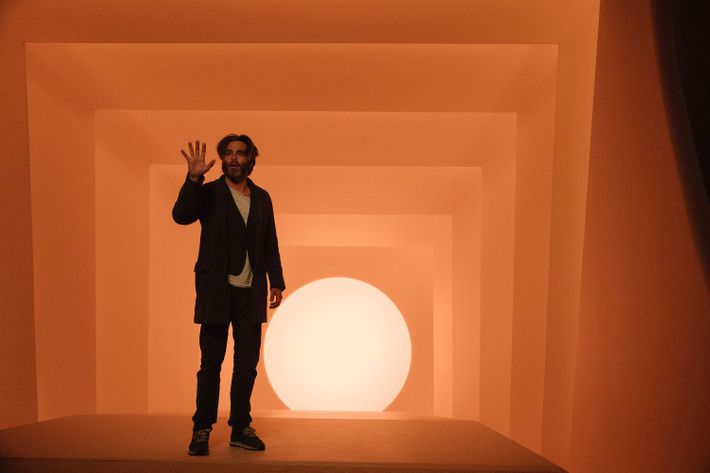 Trim Your Bangs, Beach House Is Back!
It's time to reckon with who you were in 2010. Me, I was front row at every single Beach House show, mesmerized by Victoria LeGrand's alto and organ playing and mass of hair. The more things change, the more they don't, because I'm basically doing the same thing right now to the new Beach House, which sounds just like the old Beach House. Consistency is wonderful, sometimes.
In advance of a new album, 7, the band has released another new single, "Dive," a velvety, glowing, melancholic song about longing — basically what Beach House does best, and should never stop doing. Listening to this song is like wearing an old, smelly, boyfriend sweater I copped from Beacon's Closet, like making out with an ex who loved reading Infinite Jest and drinking PBR, like revisiting bangs, which I might regrow by the time the album drops in May.
Finally Horny Moms Get Their Day: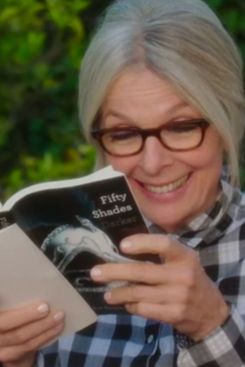 The trailers for Book Club has me more more excited than a soccer mom reading about the Red Room for the first time! I'm pretty sure there won't be a better movie in 2018, because this is a film with both boner jokes and the aesthetic of Nancy Meyers. I'm not sure the sell has to go beyond that, but here's the plot: Candice Bergen, Jane Fonda, Mary Steenburgen, and Patron Saint of Horny Women Diane Keaton are four 60-something lifelong friends who select Fifty Shades of Grey for their book club. Based on the trailer, which I have watched 100 times, things get real dirty, real fast. So inspired are they by the muse E.L. James that all four of them take a hard look at their lives and realize they haven't been living it to the highest sexual potential. Notice it drops May 18, which is basically the start of The Horny time. Expert marketing.
As if a personal gift to me, Jeremih, the singer of the best birthday song of all time, "Birthday Sex," dropped an EP today. The Chocolate Box, is a perfect little set of four fucktracks just in time for the weekend. I hope Diane Keaton is out there somewhere listening to "SMTS." I won't spoil the acronym for you, just listen, discover, be delighted.