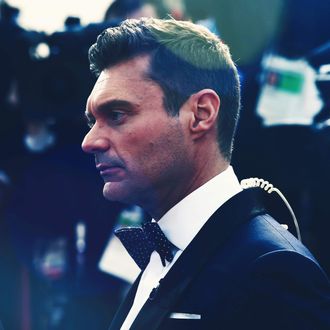 Ryan Seacrest.
Photo: Michael Buckner/REX/Shutterstock
Before Ryan Seacrest even got started hosting E!'s red carpet Oscars special on Sunday night, he was trending on Twitter. Deadline reported Sunday afternoon that E! requested to run the carpet on a 30-second tape delay, just in case anyone called out the network or Seacrest over his recent sexual-harassment allegations. No one brought it up, but the night was excruciatingly awkward anyway.
E! has gone to great lengths over the past week to remind reporters that they investigated the sexual-harassment claims against Seacrest and found no wrongdoing on his part. But, in allowing Seacrest to host the first Oscars pre-show of the #MeToo era (instead of, say, allowing another host to sub-in just this once) the network seemed to prioritize Seacrest's career over respecting the Time's Up movement.
Actresses and their publicists weren't willing to do the same, however. Many major stars skipped talking to Seacrest altogether, reducing much of E!'s red-carpet coverage to fashion commentary over B-Roll of stars posing in their dresses — including shots of Laura Dern, Margot Robbie, Jennifer Lawrence, Zendaya, Gina Rodriguez, and Salma Hayek. While Seacrest stood on the carpet, his counterpart Giuliana Rancic spent the night broadcasting from the Roosevelt Hotel pool, where she discussed Oscars fashion with fellow talking heads Brad Goreski and ex-Teen Vogue editor Elaine Welteroth. Welteroth notably did bring up #MeToo when Salma Hayek's Gucci dress came up for discussion, praising her op-ed in the New York Times about sexual harassment in Hollywood.
Welteroth's comment was the only mention of #MeToo from the E! hosts. Seacrest just managed to skirt discussion of sexual harassment while interviewing Christopher Plummer, who talked about replacing Kevin Spacey in All the Money in the World without getting into the obvious reasons why he had to replace him in the first place.
Taraji P. Henson was one of the few major actresses, along with Tiffany Haddish and Mary J. Blige, to speak with Seacrest (Entertainment Weekly made a handy list of the rest). In a moment that Twitter audiences are reading into, Henson told him that "the universe has a way of taking care of the good people."
Early in the broadcast, over by the pool, E! correspondent Kristin Dos Santos told Rancic, "We're seeing an Oscars that is not so male, not so old, and not so white. It's a fresh year and change is starting to happen."
Maybe E! executives should take the hint.