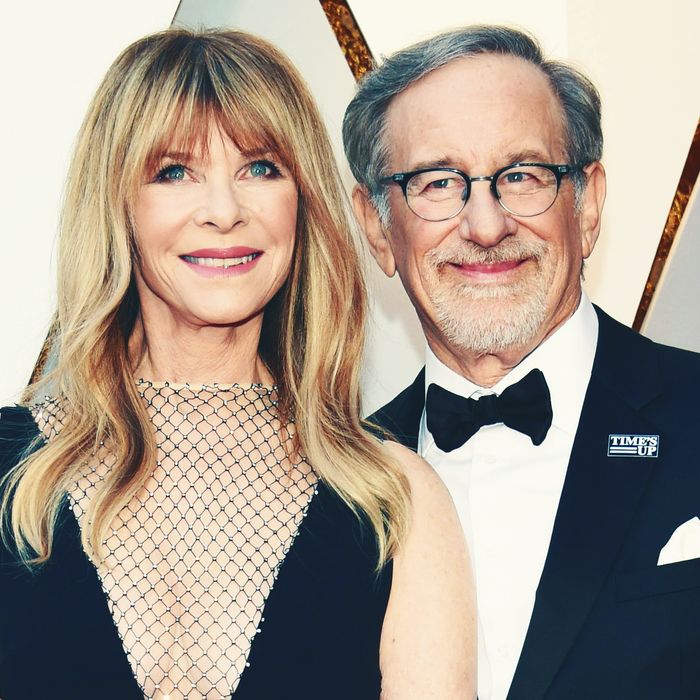 Kate Capshaw and Steven Spielberg.
Photo: Valerie Macon/AFP/Getty Images
If last night's Oscars taught us anything, it's that Hollywood is still figuring out how to navigate the post-Weinstein era. For every truly inspiring moment, there were some problematic ones as well.
One moment that elicited mixed reactions was Jimmy Kimmel's brief bit with Steven Spielberg. Between presenters, Kimmel went up to Spielberg and asked what he does. "I'm Kate Capshaw's husband," Spielberg answered, pointing to his wife.
Lots of people loved the answer, calling it #relationshipgoals and "patriarchy-smashing" but others were less enamored. As New York Times features writer Taffy Brodesser-Akner tweeted:
"She is though," responded musician and actress Sasha Spielberg, Steven Spielberg and Kate Capshaw's daughter.
"Okay, expert testimony here adds an asterisk," Brodesser-Akner conceded.
Earlier that evening, Brodesser-Akner also pointed out how patronizing it can sound when men talk about "strong women":
Indeed, for too long, paying lip service to "strong women" and calling their wives and girlfriends "the boss" seems to have been, at best, an easy way for men to get feminist brownie points and at worst, a tool to keep women subjugated. (In the early 20th century, women being the "boss" of the home was often used as an excuse to deny women suffrage. You're already in charge of domestic matters, the thinking went, why trouble yourself with political ones?)
The mixed reactions to his joke weren't so much a reaction to Spielberg as they were an indication that the old language we used to use to "empower women" just isn't going to cut it anymore. As Brodesser-Akner pointed out, being called a "badass" for being competent and doing your job isn't a compliment so much as it is patronizing, because it suggests female competence is an aberration.
"It's also stupid," writer Emily Nussbaum added. "Women are human. They're weak, they're strong, they're not one or the other. I hate this badass box."
In all fairness, Spielberg isn't just talking the talk. Among their many philanthropic efforts — including donating $500,000 to the upcoming March for Our Lives — he and Capshaw have donated an enormous amount of money to the Time's Up Legal Defense Fund.