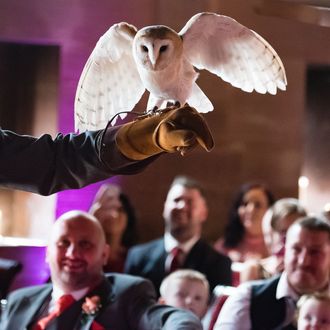 The owl during a calmer moment.
Photo: Stacey Oliver Photography
No matter how much you prepare for your wedding day, you can't control what ultimately goes wrong — from rain to delays to an owl dramatically swooping down and attacking one of your guests.
That last one is exactly what happened to Jeni Arrowsmith and Mark Wood, a U.K. couple who decided to use an owl as a ring bearer at their recent nuptials. It's unclear if this was a nod to Harry Potter or just a general unconventional wedding trope. Either way, the owl created the greatest wedding scene since that lady crashed a wedding in Florida last fall and started a full-on brawl with the bridal party.
Per the BBC, things started to go wrong when the owl and handler were making their way down the aisle to deliver the rings. One of the groom's best men (yes, he had multiple), who happens to have a fear of birds, decided to point at the bird — and here's what the wedding photographer Stacey Oliver says happened next:
"The owl sees it as a sign to fly to the hand. The owl has just dived in and hit the guy — who is terrified of birds. [He] fell off his chair."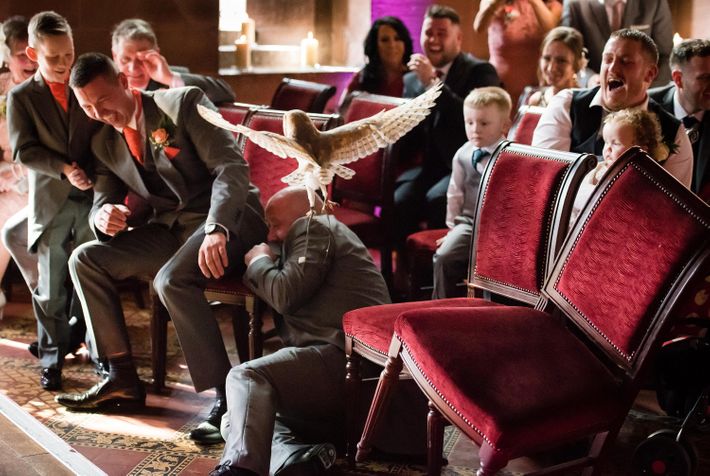 The couple and guests appeared to react to it all with a sense of humor, though the owl has yet to apologize for their biggest faux pas: wearing white to a wedding.